Raul Castro and Machado Ventura to Lead Cuban Communists for Five More Years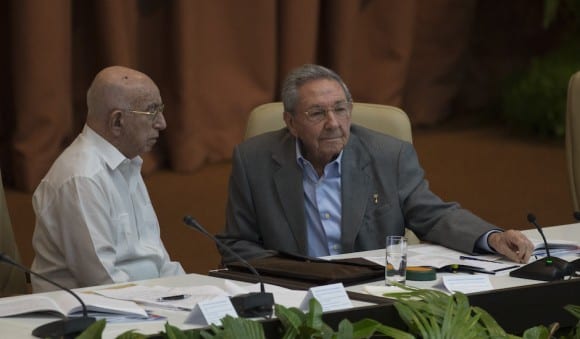 HAVANA TIMES — The Communist Party of Cuba (PCC) confirmed today Raul Castro as the top leader of the only political party permitted on the island, reported dpa.
With the announcement, Raul, 84, retains all his titles as general, president of the Councils of State and Ministers, and First Secretary of the Party.
Jose Ramon Machado Ventura, 85, was once again confirmed as the second secretary of the PCC by the 7th Congress which closes on Tuesday.  There had been speculation of a possible change for the post of Machado but instead he was confirmed for another five years until the next Congress when he will be 90.
Former President Fidel Castro, 89, attended the closing day of the closed door event at the Palace of Conventions in Havana. Although he is retired from power, the former president has great political influence on the island.
The PCC Congress concludes today after four days of meetings. As expected, the 1000 delegates unanimously supported the current political line of the Castro government.