Raul Castro Calls for Respect for Cuban Sovereignty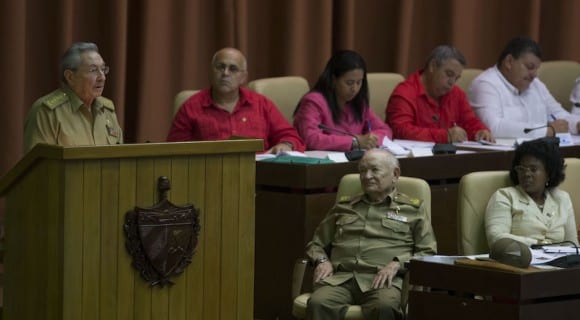 HAVANA TIMES — Cuban President Raul Castro called today for respect for the national sovereignty of the country in order to move forward on the full restoration of diplomatic relations with the United States.
"We will never accept conditions that lacerate the sovereignty and dignity of the country," Castro told lawmakers during the closing of a National Assembly session.
The Cuban president said that with the new bilateral situation with the United States "it should not be expected for Cuba to abandon the cause independence or give up the principles and ideals that generations of Cubans have fought for a century and a half."
In closing the plenary session of the Cuban Parliament, Castro said that to fully normalize relations with the United States, the Guantanamo Naval Base must be returned and the embargo applied against Cuba removed, reported the official press.
"What is essential now is that President Barack Obama use his broad executive powers to modify the embargo, which would give meaning to what has been achieved thus far and allow solid progress to occur," Raul Castro told the lawmakers.
He further reiterated the commitment of his government with "Cuban citizens right to travel and emigrate and return home".
Since last month, thousands of Cubans are stranded at the border of Costa Rica and Nicaragua with the intention to travel to the United States. On Monday, the government of El Salvador agreed to establish an air bridge to that country so the migrants can then continue on by bus to the US border.
"Our government has been in contact from the very beginning of this situation with the region's governments, searching for a suitable and quick solution, as pope Francis has also called for, and taking into account the difficult circumstances of the migrants," said Castro.
The Cuban president noted that "the main stimulus for illegal emigration" from Cuba to the United States "are special laws like the Cuban Adjustment Act" which grants Cubans permanent residency after a year spent in the country, which is not the case with migrants from other countries of the continent.
The Cuban Parliament approved the state budget for 2016 in which 58 percent of the investment plan will be aimed at economic areas considered "key" to the country, such as tourism, energy, oil and agricultural production. No comparative figures were given.
The Cuban National Assembly consists of 612 members representing all the country's municipalities, and is elected every five years. It meets only twice yearly for a couple days of committee meetings and what is usually a one-day plenary session. Virtually all votes are unanimous.