Raul Castro Visits Algeria & Egypt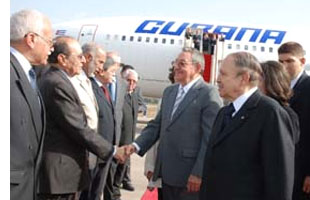 HAVANA TIMES, July 12 – Cuban President Raul Castro arrived in Algeria on Sunday afternoon on an official visit.  He will also travel to Egypt for the 15th Summit of the Non-Aligned Movement (NAM) taking place through July 16.
Cuba has led the 118-member NAM for three years and President Castro is set to hand over the rotating chair to Egyptian President Hosni Mubarak during the summit.
Raul Castro was met at the Houari Boumediene International Airport in Algiers by President Abdelaziz Bouteflika, reported the Sunday afternoon Cuban TV news.
The two leaders later held initial talks at the residence where the Cuban president is staying.
They are scheduled to meet again on Monday.
China's Xinhua news agency reported that in Sharm El Sheikh, Egypt the NAM leaders will listen to a report by Raul Castro as the chair of the concluding 14th Summit period.
A general debate will also take place on the current global economic and financial crisis, notes Xinhua.