Red Cross to Triple Budget, Expand Operations for Venezuela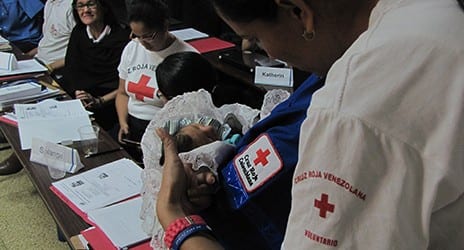 HAVANA TIMES – The International Committee of the Red Cross (ICRC) is to expand its operations in crisis-hit Venezuela, the aid agency said on Thursday, after reaching an agreement with President Nicolas Maduro.
"The ICRC has tripled its budget for operations in Venezuela from about 9 million dollars to about 24.6 million dollars," the organization announced following a five-day visit by its president, Peter Maurer, to the South American country.
"The financial boost will see the ICRC expand its work on four pressing humanitarian issues: migration, health, water and sanitation, and detention," the statement added.
Maduro, who is under international pressure to resign, tweeted on Wednesday that he had an "extraordinary meeting" with Maurer and his team.
"We shall promote the road of cooperation and international support, in favour of the people," Maduro said.
Maduro has resisted attempts by his rival, Juan Guaido, to bring humanitarian aid donated by the United States and Latin American countries to Venezuela, as his country grapples with rampant hyperinflation.
Guaido says hundreds of thousands of Venezuelans are in urgent need of food and medicine. But Maduro denies there is a humanitarian crisis and regards Guaido's aid effort as a US plot to overthrow him.
Maurer said he had met many Venezuelans, heard the challenges they face and witnessed the deterioration of basic services such as healthcare.
"Hospitals are having difficulties ensuring they have water, electricity, medicine and enough health staff on site," he added.
More than 50 countries have recognized Guaido as Venezuela's interim president since January, after Maduro won a contested election in 2018.