Reinforcements for Cuban Baseball Teams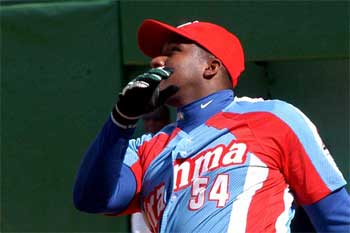 HAVANA TIMES — The eight  teams that made it to the second phase of the 2012-2013 Cuban Baseball season this weekend have reinforced their lineups, reported the Prensa Latina news agency.
This second stage, prior to the playoffs for the title, will consist of 42 games between the eight best teams from the opening round. Each squad selected five reinforcements from the eliminated teams.
The dates for the second stage of the Cuban baseball season have yet to be announced, but will occur after the 3rd World Baseball Classic, which ends in late March.
Team reinforcements:
Sancti Spíritus: Yadier Pedroso, Giovis Duvergel, Norge L. Ruiz, Danger Guerrero, Alexander Ayala.
Cienfuegos: William Luis, Ernesto Molinet, Lednier Ricardo, Yormani Socarrás, Alberto Bicet.
Industriales: Carlos J. Viera, Yoelkis Cruz, Yudier Rodríguez, Ariel Miranda, Yoandi Fernández.
Matanzas: Alexander Rodríguez, Darién Núñez, Pablo M. Fernández, Alaín Delá, Maikel Castellanos.
Isla de la Juventud: Alexei Bell, Yordanis Samón, Yulieski González, José A. García, Joan C. Pedroso.
Villa Clara: Yordan Manduley, Edilse Silva, Jonder Martínez, Danel Castro, Dayron Varona.
Ciego de Ávila: Danny Betancourt, Leandro Martínez, Miguel Lahera, Maikel Cáceres, Dainer Moreira.
Pinar del Río: Alfredo Despaigne, Leinier Rodríguez, Alaín Tamayo, Orlando Lavandera, Raimar Navarro.