Released Nicaraguan Student Reports Abuse in Ortega's Women's Prison
HAVANA TIMES – University student Elsa Valle, released today after 75 days in prison for protesting against the government of Daniel Ortega, denounced that the detainees suffer psychological abuse and subsist in unhealthy conditions with a poor diet.
Valle, a 19-year-old journalism student, was arrested on July 14 for supporting protests at the Polytechnic University (Upoli) in Managua and held in the La Esperanza women's prison east of the capital.
"There was medical negligence, there was psychological abuse, there was everything in there," she told a battery of journalists waiting outside the prison, where the girl left after being acquitted by a local judge.
Valle told reporters that she did not receive timely medical attention for an injury to her right foot during her detention, which could be fractured.
On the conditions in the prison, she said that in the cells "there are bed bugs, cockroaches and mice eating our food". She added that several of her cellmates got sick due to poor diet.
"I will continue in the struggle, I will never surrender until Nicaragua is free," exclaimed the young woman as she passed the prison gate. Two other students, out of a total of 18 women imprisoned in La Esperanza for participating in protests, were released along with her.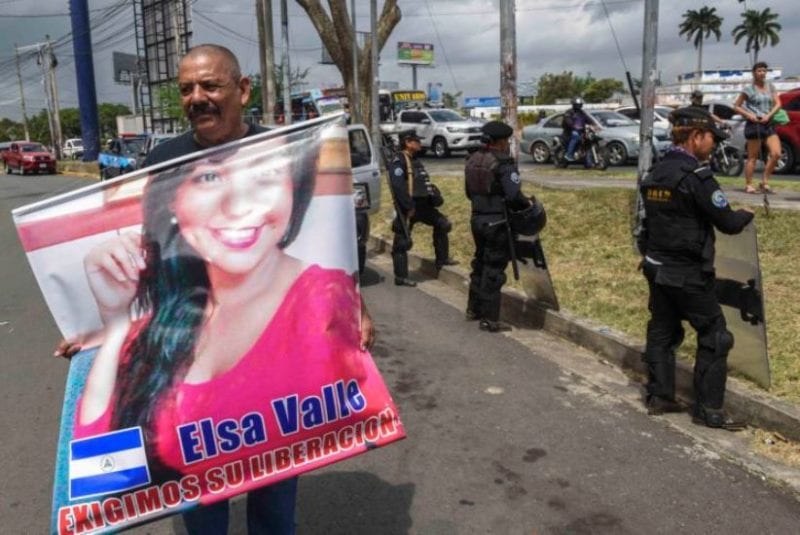 The father of the student, Carlos Valle, was arrested on September 16 after participating in a protest demanding the release of his daughter, and then he was accused of the crime of "terrorism."
The Deputy Minister of Interior (Interior), Luis Cañas, revealed days ago that 204 people are imprisoned for having participated in protests against the Government since April 18.
Of the total of detainees, seven have been convicted and 197 are still in the judicial process, said Cañas.
However, the opposition Civic Alliance ensures that the number of detainees considered "political prisoners" exceeds 400 persons.
The crisis in Nicaragua has left more than 320 dead and several thousand injured according to the Inter-American Commission on Human Rights (CIH) of the OAS and local human rights organizations.