Republican Bob Corker Pays a Visit to Havana
Meets with Foreign Minister Bruno Rodriguez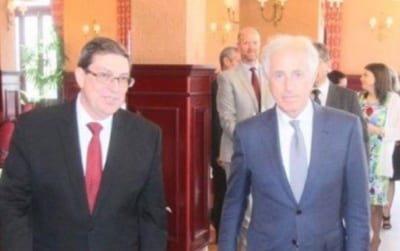 HAVANA TIMES – Cuban Foreign Minister Bruno Rodriguez met in Havana Wednesday with Bob Corker, president of the Foreign Relations Committee of the United States Senate, visiting the island, reported dpa news.
The Cuban Foreign Ministry noted that Corker's trip to the island is framed in the senator's interest to "exchange on the relations between the United States and Cuba." During the meeting, "topics related to the current bilateral situation and matters of reciprocal interest," were discussed. Nothing more was revealed.
Rodriguez's meeting with the Republican senator for the state of Tennessee comes days after the Cuban president, Miguel Diaz-Canel, said in an interview that bilateral relations were on a decline.
Last Sunday in an interview with Telesur TV, Diaz-Canel said he would be willing to dialogue with US President Donald Trump, but warned that the talks "would have to be of respect where our convictions are not conditioned, because we do not accept impositions."
The significance of Corker's visit is not clear since the senator will not stand for re-election in the US congressional elections scheduled for November.
Corker was accompanied at the meeting by Mara Techach, the Chargé d'Affaires of the US embassy in Havana.