Sandy Damaged over 150,000 Homes in Cuba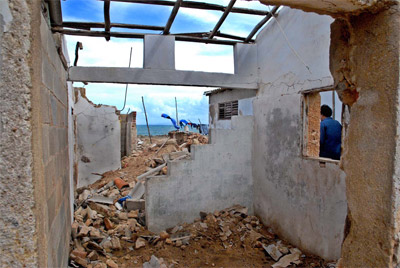 HAVANA TIMES — While the magnitude of the damage from Hurricane Sandy is still being compiled preliminary government reports show widespread devastation in Santiago de Cuba and Holguin.
In Santiago, where Sandy entered Cuba from the south, the local authorities reported on Saturday that 132,733 homes, apartments and other buildings were damaged, of those 15,322 were considered totally destroyed.  Over 43,000 of the homes lost part or all of the roofs.
In Holguin, the province from where Sandy left Cuba in route to The Bahamas and the USA, an estimated 17,000 homes were damaged, 1,800 totally destroyed and 3,000 without roofs.
There were also many homes damaged in Guantanamo province.
Electric service is still out in many parts of the affected region and hundreds of electric workers from other parts of the country have joined in the effort to restore energy as quickly as possible.
Over a thousand four hundred schools and nearly four hundred health facilities were damaged by the storm's 105 mph winds, reported government authorities.