Security Forces Hunt for Venezuelan Military Base Attackers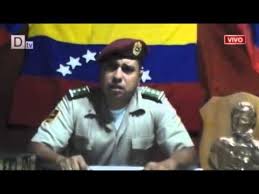 HAVANA TIMES — Venezuelan security forces were still looking for a supposed rebel group today who had attacked a military base in the center of the country and had managed to get a hold of weapons, reported dpa news.
The operation started on Sunday in and around the city of Valencia, the capital of Carabobo state, where the Paramacay base, home to the Brigada 41, which specializes in armored cars and war tanks.
Half of the group, about 20 in total, who attacked the base managed to escape with weapons, while seven were arrested, two were killed and one was injured, according to what President Nicolas Maduro reported.
The group that fled is currently being hunted down by security and intelligence agencies belonging to Venezuela's Armed Forces. However, life in Valencia was normal on Monday, aside from the roadblocks to check cars passing through.
On Sunday night, Maduro met with military leaders, who he has asked to step up intelligence activities, in order to detect new possible actions by dissident groups.
The rebels who attacked the military base on Sunday published a video where the former captain of the National Guard (military police) Juan Caguaripano, took responsibility for what he called Operation "David Carabobo".
"An attack of this kind has Miami terrorism's signature written all over it," Maduro said at a meeting with top military officiers and added that the leader of the operation is being "madly" searched for.
Media reports have said that these rebels took out 93 rifles, rocket launchers, grenades and other materials from the base.
The Government hasn't revealed the identity of those arrested, nor of those who died in the attack or the person injured.
The Ministry of Defense, General Vladimir Padrino, has said that dissidents have turned to "criminals and rambo-wannabes as propaganda," repeating that the majority who were arrested were civilians.
The group said that their mission was to lead a rebellion against the Government, amidst political tensions in Venezuela after the Constituent Assembly, a plenipotentiary body without opposition representation, was instated.  In its first action it summarily removed the Attorney General, Luisa Ortega Diaz, a critic of the government, from her position.
Meanwhile, the opposition coalition Democratic Unity Roundtable (MUD) has asked the Government to clarify what exactly happened at the military base.
"We know that both (Maduro) and his Government never tell us the truth, but it's our duty, as the political representation of the immense majority of the country, to insist on demanding an explanation associated with these events and remove the manipulations and obscure calculations that define the regime," he said in a statement.