Short-Legged Cuba Loses WC Qualifier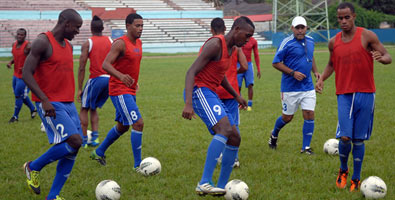 HAVANA TIMES — While the Cuban media did report that the island's soccer team lost its latest World Cup qualifier to Canada 3-0 on Friday, it did not mention the fact they played with no reserves after the desertion of four players who reportedly fled to the United States.
The loss left Cuba in the cellar of Group C with five losses and no victories with nine goals allowed and none scored. The final match of the round takes place next Tuesday in Havana with the locals facing Panama.
In recent years the Cuban national soccer team routinely losses players when the squad travels abroad for international competitions. The same thing happens in other sports, especially baseball.
If the deserters make it to the United States they are welcomed under the Cuban Adjustment Act which encourages Cubans to emigrate to the USA and gives them a very fast-track to a green card, something no other immigrant group enjoys.
Cuban coach Alexander Gonzalez told AP: "As with any Cuban sport team that travels around the world, they're all chasing the American dream," he said. "And it's difficult to try to keep the team together … Obviously it's a difficult situation for the team and it's tough for me to talk about it."
The Café Fuerte website listed the deserters as midfielder Reysander Fernández Cervantes, 28, (Ciego de Ávila); forwards Eviel Cordovez González, 23, and Maikel Chang Ramírez, 21, both from Havana; goalie Odisdel Cooper Despaigne (Camagüey), 20; and the teams psychologist, Ignacio Abreu Sánchez.