Spanish Co. Denies Reports of Sonic Attacks at Capri Hotel in Havana
It didn't receive any complaints.
By Guillermo Nova (dpa)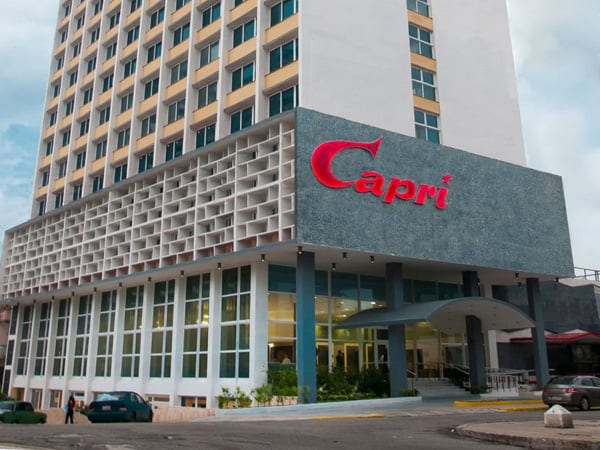 HAVANA TIMES — The Spanish chain NH, owner of the Capri Hotel, has stated that it didn't receive any complaints from clients with regard to the alleged sonic attacks that US diplomats based on the island suffered.
"We haven't received any complaints from any clients," Ramon Aragones, the CEO of the Spanish NH hotel chain, told dpa.
Washington reported more than 20 of its diplomatic personnel stationed in Havana had suffered alleged "sonic attacks" in their official homes. Some US media outlets also signaled out the NH Capri Hotel in Havana as one of the places these mysterious attacks targeted US citizens.
"We receive over 600,000 comments from all of our hotels per year, on different platforms and we analyze every single one of them," Aragones pointed out who says "they haven't had a single complaint of this nature."
"I don't exactly know what kind of system is being used to target people, but I understand that it can't be so selective that it only affects US citizens. It would affect every client, wouldn't it?" the CEO of the NH hotel chain said in an interview with dpa news agency.
The mysterious attacks supposedly caused nausea, dizziness and hearing loss among other symptoms in US diplomats.
The United States hasn't directly blamed Cuba of perpetrating these attacks but it has made them responsible for not protecting diplomatic personnel as set forth in the Vienna Convention.
The Cuban government has denied playing any part in these incidents and has cast doubt over just how true these "sonic attack" allegations are.
Only a quarter of the NH Capri Hotel in Havana's clientele is from the US. "The diversity of our clientele base has led us not to depend so much on the US market," Eduardo Bosch, the Americas director at the NH Hotel Group, told dpa.
Ever since Donald Trump has entered the White House, the US president has had a strong anti-Castro dialogue and has stopped the rapprochement process (driven by his predecessor Barack Obama) in its tracks, although he hasn't broken diplomatic ties altogether yet.
Hurting Cuba's tourism industry is one of Trump's main targets as it is crucial to the island's economy. Last June, he announced stricter traveling regulations for US citizens wanting to travel to the island, who can no longer go individually as people-to-people visitors but can still travel for cultural, academic or religious motives, among others.
"Not everybody thinks the same in the United States, and so it will depend a lot on the people's own ideology," Ramon Aragones highlights, who doesn't consider the US market to weigh heavily for his hotel chain and that in spite of problems, people from that country will continue to visit the island although numbers will reduce.
Among Trump's measures against the Cuban economy there is also the ban on US companies from doing business with companies managed by Cuba's Armed Forces.
On the list of nearly 180 Cuban companies that it is forbidden to do business with, main hotel chains in Cuban such as the Gaviota Group can be found, which has over 29,000 rooms distributed between 62 hotels across the country.
"Some of Havana's hotels went big for US tourism and now they have a problem," Aragones said.
The NH Capri Hotel is managed by the NH Group but belongs to the Cuban Gran Caribe chain, which isn't included on the list of banned companies by the US Office of Foreign Assets Control.