Storm Far Away but Worth Watching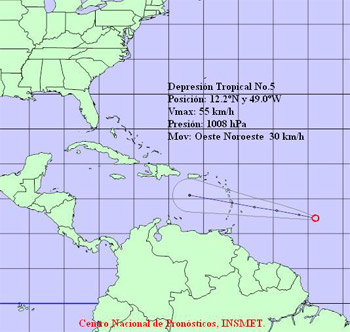 HAVANA TIMES — A new tropical depression, the fifth of the hurricane season, formed Wednesday in the Atlantic over 800 miles east of the Winward and Leeward Islands in the Caribbean.
According to the latest report from the Cuban Weather Forecast Center (INSMET) the weather system is moving swiftly (20 mph) west and packs 35 mph maximum sustained winds.
While it is too early to judge with certainty where the depression, probably converting to a tropical storm by Saturday, will aim once inside the Caribbean, the National Hurricane Center in Miami shows that it could reach eastern Cuba by early next week.
INSMET will issue a new report at 6:00 p.m. Cuban time (EDT) on Thursday.
Havana Times will publish a new report on Tropical Storm Ernesto by 8 a.m. EDT. on Friday.