Student Leaders Update Luis Almagro on the Nicaragua Crisis
The student leaders told the OAS Secretary that Daniel Ortega does not govern, but rather represses the rights and guarantees of Nicaraguans
By Emiliano Chamorro Mendieta (La Prensa)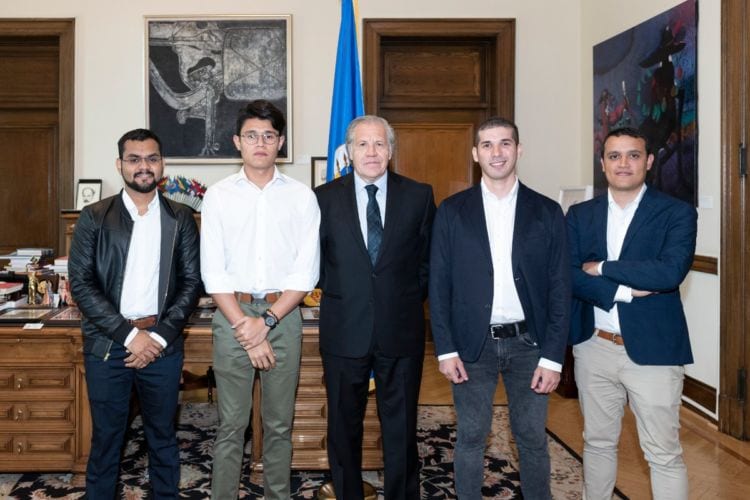 HAVANA TIMES – Nicaraguan student leaders met Friday in Washington D.C. with Secretary General of the Organization of American States (OAS), Luis Almagro, who was updated on the crisis in Nicaragua under the regime of Daniel Ortega, who the young people affirmed, does not govern, but rather represses the rights and guarantees in the Central American country.
Lesther Aleman, one of the young people who met with Almagro, said that at the meeting they spoke about "the repression, harassment of political prisoners and their relatives, and the lack of rights and citizen guarantees.
"We clearly expressed to Almagro that Daniel Ortega does not govern, but represses, because the repression is the daily bread prescribed by the dictatorship against the people of Nicaragua," said Aleman, who sought exile in the United States.
The meeting was attended, in addition to Aleman, by Edwin Carcache, released political prisoner; Max Jerez, member of the Civic Alliance; and Douglas Castro.
"The main purpose (of the meeting with Almagro) was to update him on the repression with evidence. We also reiterated the need for the General Secretariat and the member States of the OAS, to insist on the total freedom of all the remaining political prisoners, a commitment made by Daniel Ortega to the OAS and that until now he has not complied with," affirmed Aleman.
Aleman, who was the student that questioned Daniel Ortega last May 16 during the first dialogue and demanded that the repression cease and Ortega's surrender to the people, said to La Prensa that they also reminded Almagro, during the meeting in Washington, to insist on the restitution of rights and citizen guarantees.
On the other hand, the students presented to Almagro the urgency of the electoral reforms, with the aim of making the electoral system transparent to guarantee free, early, open and observed elections "under real standards of the Inter-American system."
"That's to say, that it be more than a task, but rather for it to be with the logic of providing peace of mind to citizens, that it be a credible process, that there is confidence in exercising the right to vote and that these elections generate the solution to the crisis," expounded the student.
Almagro's response
The OAS Secretary General told the students that the organization is working to guarantee political freedoms in Nicaragua but that the issue of reforms had "been halted due to an impasse in the dialogue process."
"We also made Secretary Almagro aware of the urgency of creating a high-level commission (demanded by the OAS resolution in Medellin, Colombia) because in any case the 75 days are imminent and the report will show the reality of what is happening, given that for us in Nicaragua the dictatorship exists, as well as an excessive repression," Aleman reiterated.