Surprises at Cuba's Festival of Young Filmmakers
By Irina Echarry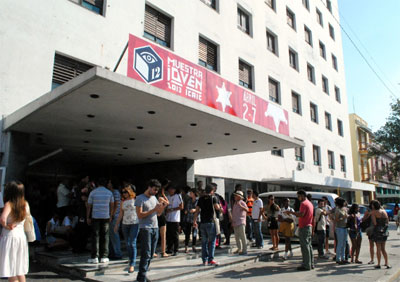 HAVANA TIMES – The XII Festival of Young Filmmakers is currently underway in the Cuban capital, but hurry, it ends on Sunday April 7.
This year's showing is dedicated to the 20 years of Television Serrana and its efforts to reflect (with large doses of talent and sensitivity) life in the eastern Cuban mountains.
The Chaplin, Sala Charlot, 23rd and 12st and ICAIC theaters are projecting the Cuban works in competition, as well as international works that include a sampling from the Festival of Short Films from Clermont-Ferrand, France, and the different sections of the yearly program.
This year there is something new: the screening of 3D films, taking place on the second floor of the Cuban Film Institute (ICAIC) building.
There are many options in an atmosphere of youthful joy and thought. In addition to the films there are several art expositions as part of the event.
At the 23rd and 12th Street cinema you can see entries from the New Poster Designer's Competition whose winner was Alejandro Romero with the poster made for the documentary El Receso (The Break).
At the Chaplin Theater is "Y apenas sujetarnos" (Barely hanging on), by Adonis Ferro. The artist recreates screenplays that have impacted him in pictures. He uses pen and ink on cardboard from the 70's, medium used by designers of that era.
So don't miss this mix of cinema and art. We'll be discussing the films being projected in a future post.

Click on the thumbnails below to view all the photos in this gallery. On your PC or laptop, you can use the directional arrows on the keyboard to move within the gallery. On cell phones use the keys on the screen.