Team Cuba for Mexico Games Announced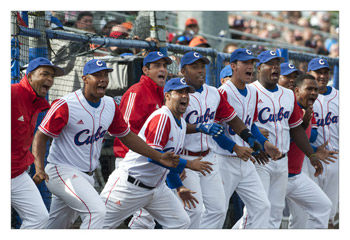 HAVANA TIMES — The 27-man Cuban baseball team to play five exhibition games in Mexico was announced on Tuesday. The games will be played starting on Thursday with  Victor Mesa managing the islanders.
Pitchers: Alexander Rodríguez, Freddy Asiel Álvarez, Ismel Jiménez, Norberto González, Yoannis Yera, Darien Núñez, Calos Juan Viera, Yander Guevara, Miguel Lahera and Félix Fuentes.
Catchers: Ariel Pestano y Yosvani Alarcón
Infielders: José Dariel Abreu Correa, Alexander Malleta, Yordanis Samón, Dayan García, José Miguel Fernández, Yulieski Gourriel, Michel Enríquez, Luís Yander La O, Yordan Manduley and Roberto Carlos Ramírez.
Outfielders: Frederich Cepeda, Alfredo Despaigne, Guillermo Heredia, Yasmani Tomás y Ariel Sánchez.
The first three games will take place October 25,26,27 in the city of El Carmen, Nueva Leon against a university squad strengthened by players from the Mexican professional league. On the 28th the Cubans will play against the host Campeche Pirates and on the 30th vs. the Yucatán Lions.
Depending on their performance in Mexico, Team Cuba could suffer replacements from a pool of 14 other players in training before the upcoming exhibition games in Chinese Taipei (Nov. 12-13), and in Fukuoka and Sapporo, Japan on November 16 and 18..