The Feat of Buying a Packet of Beef Jerky in Cuba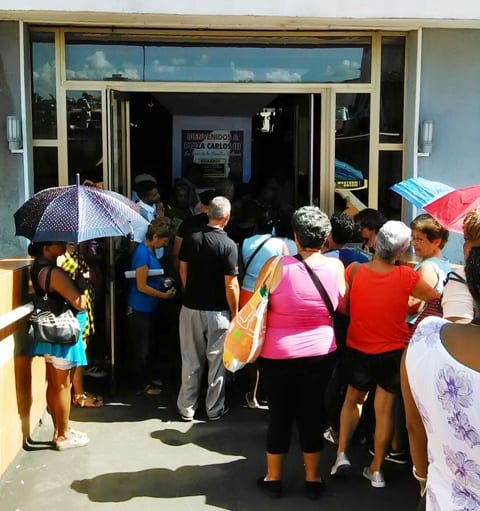 Por Vicente Morin Aguado
HAVANA TIMES — Packets of beef jerky, 500g for 0.75 CUC! Word spread like wildfire through all of Central Havana, the "bargain" was waiting at Carlos III, the largest hard currency mall in the Cuban capital. A never-ending queue for three days, people could buy however much they wanted and that's exactly what they did. Even the police had to intervene in order to keep things orderly.
"Queues form, a great mass of people, for anything here, it would seem that we are really a miserable lot," Mirta Almagro exclaimed, an umbrella resting on her shoulder, while her husband roasted in the sun, holding their place in the line. It was an improvised sales point, a door adjacent to the small bridge that connects the shopping center with the large neighboring park, on the second floor of the building next-door, built in the late "1950s" in Havana, in the best style of any shopping center in Miami today.
The thing here is that every 500 gram packet of Brazilian Triboi jerky used to cost 1.50 CUC (1.70 USD) just a few days ago and now it's been reduced by up to 50% because the expiration date on the product is September 1st. Another person explains: "It's very expensive for lots of people at the price of 1.50, just think, it's almost 40 regular pesos for a pound. Nobody used to buy the jerky, now we can make the most of the expiration date."
The queue has no end in sight, it moves forward slowly, many people are buying entire boxes, that is to say, dozens of packets that they will then resell on the street or maybe, if they have a private business, they will put it on the menu as an exclusive dish. Marisol, who is about to go through the door and meet the only jerky seller in Havana, says:
"Here, we don't ever leave our routine, pork and chicken, chicken and pork, fish is expensive if you want decent fish, the price of beef is through the roof – 10 USD for a kilo – so much so, that a crowd of people has to form when a miracle like this appears."
Government figures published by the Office for National Statistics and Information, place the average income of a Havana resident at 776 Cuban pesos, the national currency or CUP (in 2016), which means about 32.3 pesos per day given the fact there are 24 working days in a month. The account says that the 500 gram packet of jerky (1.50 CUC) was 37.50 pesos before the sudden, opportunistic and forced discount. Eating jerky between two people used to be a little more than a day's worth of work in the country's capital. The exchange rate is 25/1 of CUP to CUC.
After three days of never-ending queues to buy the jerky packets, there wasn't a trace of jerky left on Saturday July 29th at Carlos III as of midday. However you can now buy it on the street for 30 Cuban pesos (CUP). It's the price people who didn't line up with due patience will pay in a country which borders on absolute madness.