The US Flag Flies Again in Cuba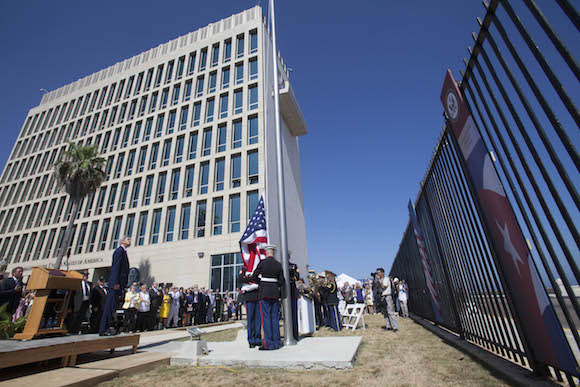 HAVANA TIMES — The US flag has finally been raised in front of the newly-opened embassy in Havana. The Cuban delegation was headed by Josefina Vidal, who was at the front of negotiations with the United States. John Kerry appeared later, wearing a blue suit and leaning on a cane, to sit down next to the Cuban diplomat.
In his speech, delivered in English and partially in Spanish, the Secretary of State insisted that Cuba has nothing to fear from his country. He made a vague mention of the benefits of "true" democracy, but acknowledged that the decision as to Cuba's political system must be made exclusively by Cubans.
Several hundred people – Cubans and Americans – gathered at 7 in the morning at the Malecon ocean drive, some 50 meters away from the embassy, and witnessed the reopening ceremony. The public was not subjected to any special security measures, only a fence indicated the area they could not access. Hundreds of umbrellas and fans evidenced how hot the day was, even mid-morning. Even the US guests had to take off their jackets to cool off.
Some 400 journalists, half of whom have come to Cuba to cover the event exclusively, were there, including representatives from the world's main television channels, from the United States to Japan.
The US flag was delivered by 3 retired marines, the same ones who lowered it 54 years ago, when Washington broke relations with Cuba. One of them, Jim Tracy, confessed: "I'm moved. I think the entire world is going to like what's coming." Another, Mike East, stated that re-establishing relations means a lot, as there are "a great number of people who have been affected, separated families and everything that's happened."