The Women on Hunger Strike in a Blockaded Masaya Church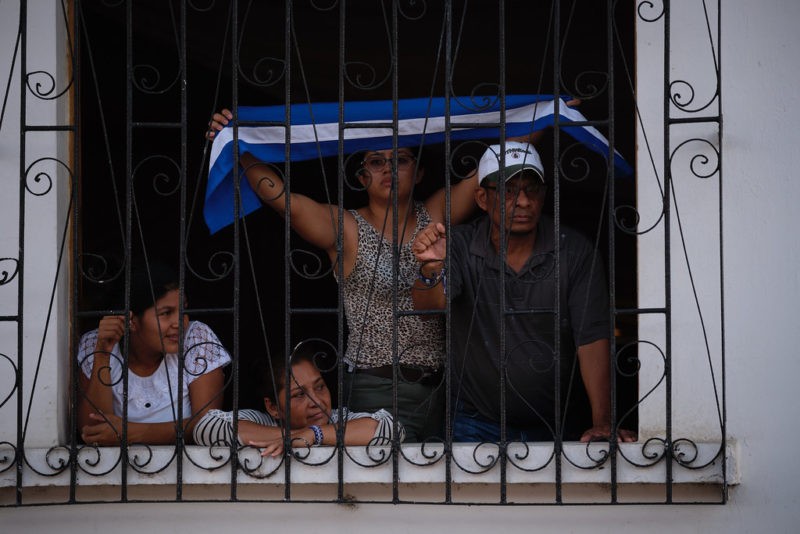 Mothers, wives, and sisters of the political prisoners maintain a hunger strike in the San Miguel Arcangel Church in Masaya, demanding that their family members be freed.
By Confidencial
HAVANA TIMES – For a week, the San Miguel Church in Masaya hasn't been able to receive worshippers. A dozen police keep people from approaching to confess or to leave supplies for Father Edwin Roman and the mothers, sisters and friends of the political prisoners who maintain a hunger strike within, in demand of the liberation of their loved ones. The only ones who can come up to the church are the Ortega mobs and those who deliver the electricity bills.
The family members of the political prisoners announced their intention to hold a hunger strike in the Church last November 14. That same day, water and electricity service to the Church were cut off. Police then placed the building under complete siege; up until now, dozens of police and Sandinista mobs have continued to encircle the church to prevent the public from passing any supplies to the those inside. Communication has become more difficult with every passing day, due to the lack of electricity to charge the cell phones of those trapped within.
Despite the passing days and the increasing precariousness of their conditions, the family members of the political prisoners and Father Roman himself have continued firm in their decision to continue in the church until their loved ones are freed.
One of the citizens inside the church is Karen Lacayo, sister of political prisoner Edward Lacayo, better known as "The Monimbo Wolf". Edward Lacayo was captured by hooded civilians on March 15, in the community of El Ostional, Rivas, while he was fleeing the persecution of the Ortega regime and attempting to cross over into Costa Rica.
The Ortega "justice" accuses Lacayo of drug trafficking. The Prosecution declared that he was heading to Costa Rica with six blocks of cocaine when he was intercepted by police officials. His mother, Esthela Rodriguez, and those close to him, maintain his innocence and state that his detention under allegations of a common crime represents the regime's revenge for his political activity.
"La Loba" remains in the men's jail in Tipitapa known as "La Modelo". He's one of over 120 political prisoners accused of common crimes, and thus not benefited by the Amnesty Law that was approved at the beginning of June by the FSLN majority who overwhelmingly control the National Assembly.
When Edward Lacayo's trial was held, those testifying against the political prisoner were underground police agents, as his lawyer, Julio Montenegro denounced. The attorney specified that the Prosecution couldn't prove in the trial that Lacayo was a drug trafficker, but despite that, Judge Aracely Rubi declared him guilty. According to the lawyer, the defense case was dedicated to showing that the political prisoner couldn't be a narcotrafficker, because he possessed no wealth, nor did he live a life of luxury.
The history of Melkissedex
Also on hunger strike in the San Miguel Church are Luisa Guevara and Martha Alvarado, wife and mother of political prisoner Melkissedex Lopez, who was captured in Managua in December of last year, and who an Ortega-allied judge sentenced to four years in prison for the supposed crime of aggravated robbery of a gas station.
"He's a strong man. My son tells me that he's fine, that he'll get out of there, that God is just, and he is innocent. He says that the dictatorship imprisoned him to silence their voices. I know that my son is in bad shape, I could see it in his eyes. My son has not criminal antecedents, he hasn't been a man of the world. We didn't think that he'd be put in jail for raising his voice against this Government," Martha Alvarado told the media days before she was left trapped in the church.
In another interview, Alvarado declared that it's complicated for a mother to bring up, educate and teach their children right from wrong, but in the end the work in the home bears fruit. However, one thing "you can never prepare yourself for" is to see your child behind bars, called a delinquent and sentenced.
"It'll be a year since I've seen my son. I've counted the days, the minutes and the seconds since he was taken prisoner and I ask only that they set him free," Alvarado expressed on that opportunity, adding that she wouldn't stop protesting until her son, a 26-year-old engineer, be freed.
Lopez has been imprisoned in the La Modelo penitentiary in Tipitapa. According to Martha Alvarado, her son is suffering from gastritis and scabies due to the unhygienic and isolated conditions he's being held in.
The bomb that failed to explode
Denis Javier Palacios was detained on July 23, 2019, after he had voluntarily obeyed a summons from the Masaya police station. Although he had no criminal record, the authorities proceeded to lock him up and accuse him of detonating a homemade bomb on Kilometer 34 of the highway from Masaya to Catarina on July 27, four days after his illegal arrest.
Heysell Palacios, Denis Palacios' sister, denounced this irregularity to the media. The anomaly lays bare, once again, the dysfunction and complicity of the judicial system with the Ortega regime. Unfortunately, her clamor remained unheard, and that's why she decided to join the hunger strike in San Miguel with the other women and wives of political prisoners.
Julio Montenegro, Palacios' lawyer, explained that the Prosecution didn't manage to present any conclusive proof of his guilt. One of the witnesses mentioned only that he saw a man running down a dark street around 2:30 am.
"We continue with the same problem, the judges don't assure the rights and guarantees of the accused. They send them into arbitrary trials without a scheduled date on the calendar," Montenegro declared to the media.
Christmas with no political prisoners
Diana Lacayo's principal motivation for participating in the San Miguel strike is the yearning to have her son home for Christmas. Her son is political prisoner Scanniert Merlo Lacayo, who has been in jail since November 6 of last year.
Before being closed into the Church, Lacayo expressed that the hunger strike is a form of pressure to "see if the ruler is moved and gives us our children." Contrary to what she had hoped, the regime decided that it was best to cordon off the petitioners and leave them incommunicado.
"God has to give us strength. We're going to be here without taking any food at all. We want to make this sacrifice to see if in this way we can get them to free our children," Lacayo asserted to the media, adding: "They're our sons. We don't want to spend Christmas without them. We're consumed by anxiety; we have to take extreme measures."
Along with Diana Lacayo, Flor Vargas, wife of Fausto Ruiz is also there on the hunger strike. Fausto was detained on February 19, 2019. He's from La Paz Centro, near Leon, and he's been imprisoned in the Chinandega penitentiary. Diana and Flor are joined by Suleika Sanchez, wife of Virgany Zavala, detained since July 31, 2018. All of these women are being guarded and kept isolated by a dozen police.
In addition to these family members of political prisoners, there are five others also isolated within the church: Flor Ramirez, known for her colorful traditional dress and dancing during the protests; Yonarqui Martinez, lawyer for many of the political prisoners; Father Edwin Roman, priest of the San Miguel Church; and former political prisoners Santiago Fajardo and Marlo Powell.