Thirty Cubans Caught in Human Trafficking Operation
In Key Largo, Florida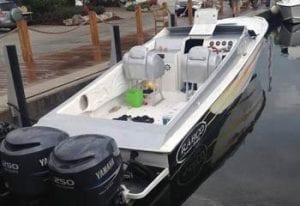 HAVANA TIMES — US authorities have busted a human trafficking operation with over 30 Cuban immigrants who reached the Florida Keys in the early hours of Sunday morning.
This is the first large group of Cuban immigrants captured trying to reach US soil since the "wet foot/dry foot" policy was revoked on January 12th this year.
Since then, the US Coast Guard has only reported the capture of 14 Cubans who tried to reach the US territory by sea, in spite of the restrictions both governments announced.
Intercepted when landing
According to the spokesman from US Customs and Border Protection, the group was intercepted by a crew of border officials when they landed in Ocean Reef, a closed community on Key Largo.
Five of the immigrants fled towards the mangrove swamps but they were caught by the Border Patrol a short time after.
US authorities have confirmed that the group was brought over on a 40-foot long speedboat, which was intercepted 500 yards from Ocean Reef.
At least one person is being held suspect by the authorities as the main trafficker.
Imminent repatriation
The group of Cubans who were caught could be quickly repatriated, according to the new Cuban immigration policy agreed between both governments. The only chance that these people have to stay is if they open up an asylum-seeking case and prove believable fear of persecution if they are returned to Cuba.
However, this option is becoming less and less viable for people involved in human trafficking operations.
Cuban immigrants who manage to outsmart US border control and enter the country by illegal means will not receive benefits and will not receive parole, running the risk of being deported back to Cuba if they are arrested for any reason.
In spite of the change in policy, dozens of Cubans in Cuba continue to prepare for their sea crossing adventures in the hope of reaching the United States.