Thousands of Indigenous People Demonstrate for Land Rights in Brazil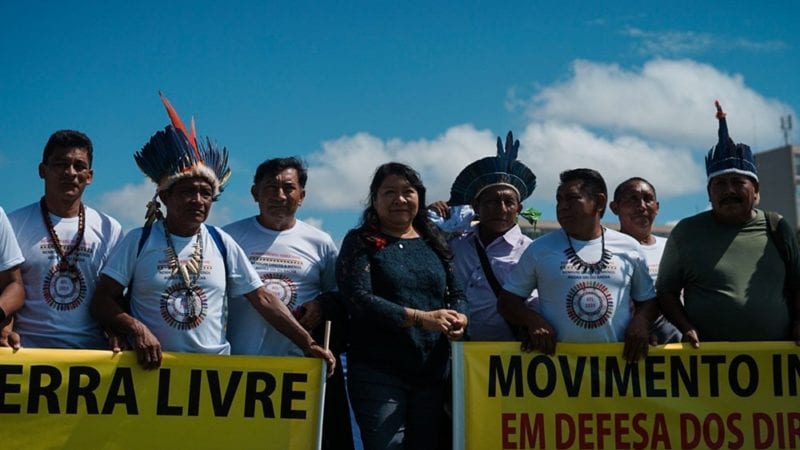 HAVANA TIMES – Thousands of Brazilian indigenous people on Wednesday camped in the capital Brasilia to protest against government plans to open up their territories for farming and mining, reported dpa news.
About 2,000 indigenous people, many of whom wore body paint and traditional clothing, set up camp in a central area surrounded by government buildings.
The same number again were expected to join the annual three-day event, according to newspaper Folha de Sao Paulo.
Brazil's indigenous people fear the environmental destruction of their territories after President Jair Bolsonaro stripped the federal indigenous agency of the power to designate indigenous lands and transferred that authority to the Agriculture Ministry.
Indigenous representatives on Wednesday met Senate President Davi Alcolumbre to discuss their concerns, according to news agency Agencia Brasil.
Concern over indigenous rights has increased since Bolsonaro took power on January 1.
The far-right president's moves to open more indigenous land to farming and mining companies have sparked international concern over the increasing destruction of the Amazon rainforest, which is expected to accelerate global warming.
Land conflicts and killings of indigenous people are meanwhile reported to have increased. "Indigenous blood – not a drop more" was the motto of Wednesday's rally, organizer Kleber Karibuna told news portal G1.
Brazil has about 900,000 indigenous people belonging to some 300 ethnic groups, which amounts to less than 1 per cent of the population.