Three Cuba Homers Too Much for Canada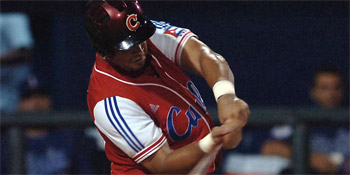 by Circles Robinson
HAVANA TIMES, Oct. 21 — Back-to-back homers by Cepeda and Despaigne in the first inning and a grand slam from Jose Dariel Abreu in the third proved all the runs Cuba needed in its victory over Canada in Pan American Games baseball on Thursday night.
The win assures Cuba a ticket to the semifinals, independent of the results of today's game against Puerto Rico.
Down 7-0 after three innings, Canada did battle back against Cuban starter Yulieski Gonzalez (6 hits, 2 runs in 5.1 innings) and Jonder Martinez (3 hits, 3 runs in 3.2 innings) to get within four runs, but Cuba added some insurance scores in the 6th and 9th to keep things safe.
In all, Cuba pounded out 18 hits (6 for extra bases) to 9 for Canada. All of Cuba's starters managed at least one hit with shortstop Erisbel Arruebarruena and first baseman Abreu having three each.
Canada's offense was led by clean up hitter James Van Ostrand who had three hits and shortstop Jonathan Malo who added two, with both knocking in one run.
Game time for Cuba vs. Puerto Rico on Friday is 3:00 p.m. Guadalajara time.  Too watch the game live visit: baseballdecuba.com
Other games on Thursday:
Group A:
USA 20, Dominican Republic 2. (Ended on the mercy rule after 8 innings)
Group B:
Venezuela 9, Puerto Rico 6