Tropical Depression No Threat to Cuba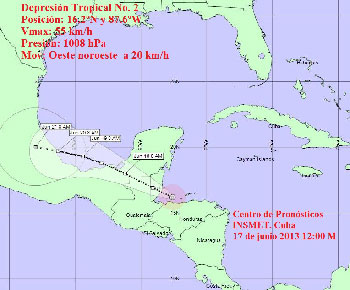 HAVANA TIMES — A tropical depression formed in the western Caribbean on Monday, the second such storm of the current hurricane season.
The Cuban Weather Service (INSMET) located the center of the depression at 95 kilometers (60 miles) east of Belize City.
At noon, the depression packed 55 k/ph (30 m/ph) winds and a minimum central pressure of 1008 millibars.
It was moving on a west, northwest track at 20 k/ph (12 mph). It is expected to reach land in Belize later on Monday.
The projection charts of the depression from INSMET and the National Hurricane Center in Miami are showing that the depression does not present a threat to Cuba.
After crossing Belize it is expected to pass through northern Guatemala and possibly on to the southern portion of the Yucatan Peninsula.