Tropical Storm Bertha Nears Puerto Rico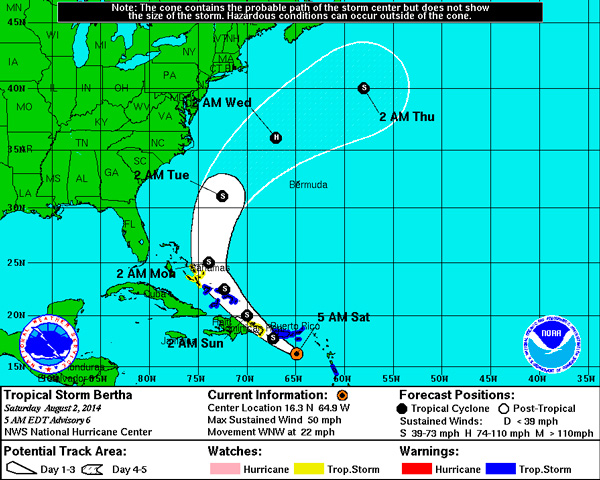 HAVANA TIMES – Tropical Storm Bertha continued on its course to the west-northwest and is expected to touch ground or very close to the southwestern part of Puerto Rico on Saturday afternoon, reports the National Hurricane Center in Miami.
Projections then see the center of the storm moving towards the southeastern part of the Dominican Republic. The storm is not predicted to have an effect on Cuba.
Bertha currently maintains maximum sustained winds of 85 kph (50 mph) and moves quickly on its course at 35 kilometers per hour (22 mph).
The National Hurricane Center is maintaining a Tropical Storm Warning for:
* MARTINIQUE
* PUERTO RICO
* VIEQUES
* CULEBRA
* U.S. VIRGIN ISLANDS
* BRITISH VIRGIN ISLANDS
* The SOUTHEASTERN BAHAMAS…including the ACKLINS…CROOKED
ISLAND…LONG CAY…THE INAGUAS…MAYAGUANA…and the RAGGED ISLANDS
* The TURKS and CAICOS ISLANDS
A TROPICAL STORM WATCH IS IN EFFECT FOR…
* The EASTERN DOMINICAN REPUBLIC from CABO FRANCES VIEJO to
ISLA SAONA
* CENTRAL BAHAMAS… including CAT ISLAND…THE EXUMAS…LONG
ISLAND…RUM CAY…and SAN SALVADOR.
The NHC notes that a tropical storm warning means that tropical storm conditions are expected somewhere within the warning area…in this case within the next 12 to 24 hours.
A tropical storm watch means that tropical storm conditions are possible within the watch area…in this case within 24 to 36 Hours.