Tropical Storm Erika Heading for Cuba Landing on Saturday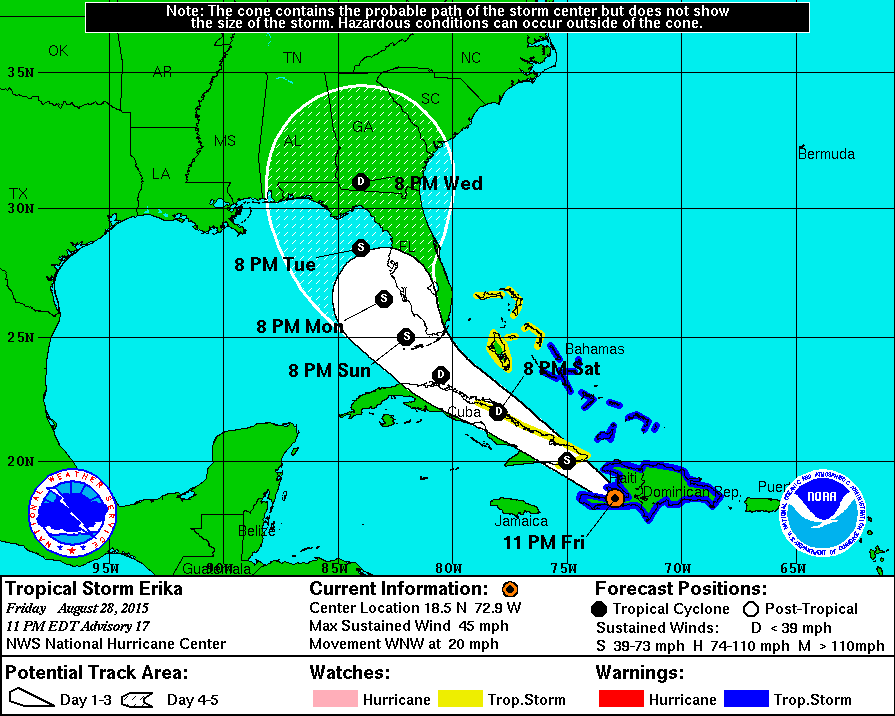 HAVANA TIMES — The center of Tropical Storm Erika altered its route slightly on Friday and is now expected to reach land in Guantanamo, Santiago de Cuba or Granma by sometime Saturday morning.
The storm, currently packing 45 mph winds, has caused heavy rains and flooding on several Caribbean Islands in its path. At least 35 persons were reported dead on the island of Dominica.
Cuba's weather forecasters predict that Erika will bring heavy rains from Guantanamo, in the far east of the island, to the central province of Ciego de Avila. The winds are expected to hit at between 40 and 65 mph.
The National Hurricane Center notes that Erika is now expected to produce average rainfall accumulations of 3 to 6 inches, and up to 10 inches in some areas of the Dominican Republic, Haiti and eastern Cuba through Sunday.
Life-threatening flash floods and mud slides are a concern and Cuba's Civil Defense Network is working to safeguard lives and property.