Tropical Storm Philippe Passing through Cuba
HAVANA TIMES – At 6 p.m. Saturday Tropical Storm Philippe was over the western provinces of Artemisa to Matanzas including Havana. Somewhat disorganized, the most dangerous aspect of the system can be the rains, reported the Cuban Forecast Center (Insmet).
Below we publish the latest Insmet advisory on Tropical Storm Philippe.
TROPICAL STORM PHILIPPE
Cuban Forecast Center
Date: October 28, 2017. Time: 6:00 p.m.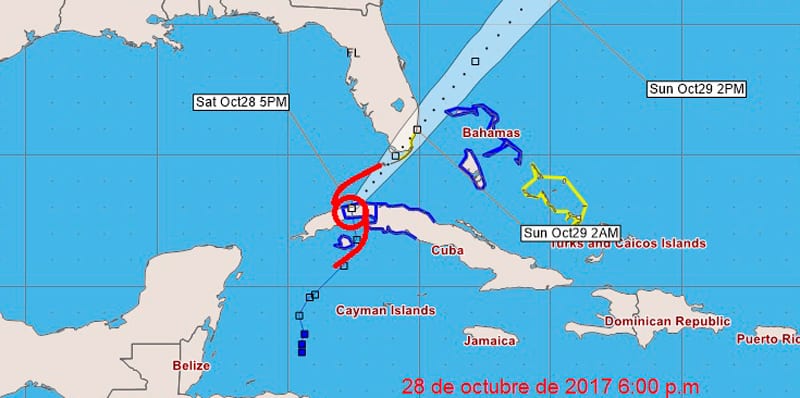 Tropical Depression number eighteen intensified over western Cuba on Saturday afternoon and became Tropical Storm Phillipe. Its large central region is quite disorganized and is being restructured between the provinces of Artemisa and Matanzas.
As it is a weak system, its center does not represent great importance, the most significant aspect being the areas of heavy rainfall that are observed at this moment, being stronger and more intense from Matanzas to Ciego de Avila according to the Cuban radar network.
Tropical Storm Phillipe has maximum sustained winds of 65 kilometers per hour, with higher gusts. It has a central pressure of 1002 milibars and is moving quickly north at 46 kilometers per hour.
In the coming hours this ample weather system will move on a course to the north increasing even more its movement speed arriving at the Straits of Florida later tonight. In the next 12 to 24 hours, the showers and rains will prevail in the western and central regions of Cuba, becoming strong and locally intense from Mayabeque to Ciego de Avila, with the occurrence of winds with tropical storm force.
In addition, strong swells will be maintained on the southern coast of the western and central regions of the Island and there will be light to moderate coastal flooding in low areas from Mayabeque to Ciego de Avila, as well as in the south of the Canarreos archipelago.
The Forecast Center will keep a close watch on the evolution of this meteorological situation.