TS Debby Well North of Cuba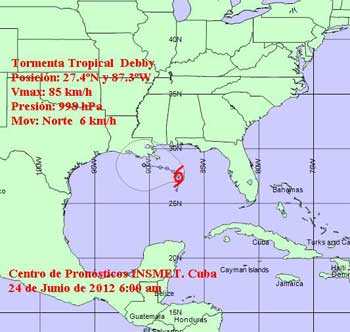 HAVANA TIMES — While some electrical storms and showers are expected in Western Cuba on Sunday, typical of the rainy season, Tropical Storm Debby is moving far northwest without posing a threat to the island.
TS Debby is moving slowly north on a track that is expected to turn west and parallel the Gulf Coast, possibly becoming of hurricane strength by mid-week, noted the National Hurricane Center (NHC) early Sunday morning.
Debby is currently packing 85 kph (50 mph) winds and a central pressure of 998 millibars.
The possibility of heavy rains and flooding promoted the NHC to call a tropical storm warning along the eastern half of the Louisiana Gulf Coast.