TS Emily Flirts with Guantanamo, Cuba
By Circles Robinson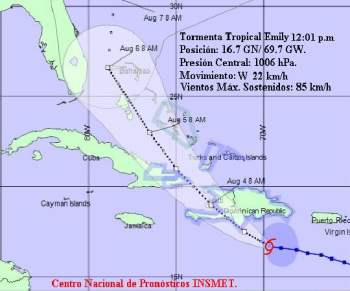 HAVANA TIMES, August 3 — The far eastern Cuban province of Guantanamo has begun making preparations for a possible impact from Tropical Storm Emily, which has inclined slightly to the west, making possible a landing in Cuba.
The latest movement of Emily also poses a greater threat to Haiti and the southeastern Dominican Republic which are bracing for a landing sometime Wednesday evening.
The Cuban Weather Service (INSMET) said that rainfall in the far eastern part of Cuba should begin by Thursday afternoon.
It also notes that sea swells endangering small boats will be felt on the southeastern Cuban coast as well as the north coast of Guantanamo Province.
The forecasters noted that the swells will be heaviest on the north coast in both the afternoon and evening of Thursday.
At 12:00 noon EDT on Wednesday, Emily packed winds of 50 mph (85 kph) and has a central pressure of 1006 millibars.  It is moving west at 14 mph (22 kph).
The center of the tropical storm was located by INSMET at 190 kilómeters south of Santo Domingo, Dominican Republic.
Emily is not expected to reach hurricane strength in the coming days as it moves towards the The Bahamas and off the eastern Florida coast.  However the National Hurricane Center in Miami is now predicting it will be a hurricane by Monday, somewhere between the central US eastern seaboard and Bermuda Island.