TS Erika Heads for Puerto Rico en Route to US Atlantic Coast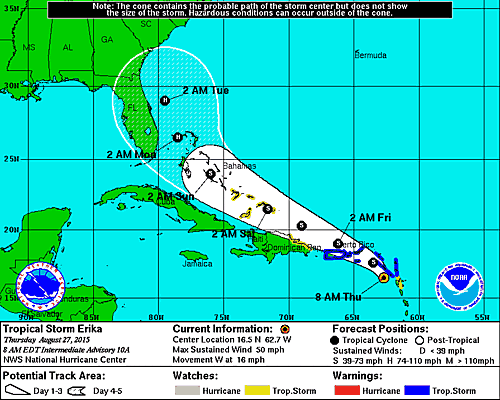 HAVANA TIMES — The latest projection cone from the National Hurricane Center in Miami shows Cuba off the path of tropical storm Erika, which is currently moving in the eastern Caribbean.
At 8:00 a.m. (EDT) the center of the storm packs 50 mph winds and is moving at 16 mph in a north-northwesterly direction towards Puerto Rico. It's projected route would then take it through the Bahamas and on to the US southern Atlantic Coast.
At present a tropical storm warning is in effect for: Anguilla, Saba and St. Eustatius, St. Maarten, St. Martin, St. Barthelemy, Montserrat, Antigua and Barbuda, St. Kitts and Nevis, Puerto Rico, Vieques, Culebra, U.S. and British Virgin Islands.
A tropical storm watch is in effect for: Guadeloupe, the north coast of the Dominican Republic, Southeastern Bahamas, Turks and Caicos Islands.
The NHC reports that the tropical storm force winds extend outward up to 105 miles mainly north and east of the center.
"Erika is expected to produce total rain accumulations of 3 to 5 inches with maximum amounts of 8 inches across portions of the Leeward Islands, the Virgin Islands, Puerto Rico, the Dominican Republic, the Turk and Caicos Islands and the southeast Bahamas through Saturday," reports the NHC.
Cuba is in great need of rain, especially on the eastern side of the country. However the current precipitation projections from TS Erika do not include the island.