TS Ernesto Approaches Honduras Coast
By Circles Robinson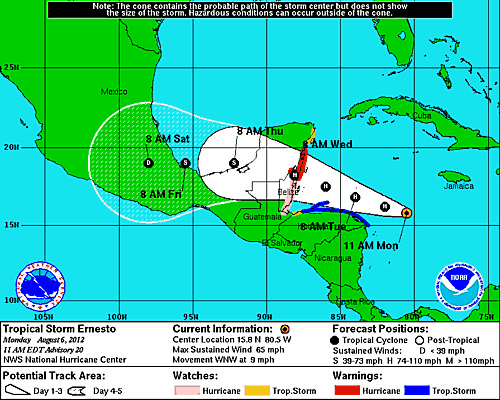 HAVANA TIMES — Tropical Storm Ernesto is closing in on the north coast of Honduras on Monday, and while the center will most likely not touch land the effects will be felt and a tropical storm alert is now in effect.
According to the National Hurricane Center (NHC) in Miami, the subsequent path of Ernesto will take it on a collision course with the Yucatan Peninsula somewhere near the Belize-Mexico border.
It is then expected to weaken considerably as it crosses mainland Mexico.
A hurricane watch has now been called for all of the Caribbean coast of Belize and an alert for the Mexican Caribbean Yucatan from Belize to Cotzumel.
The storm, currently with 50 mph maximum sustained winds, is far south of Cuba, which is expected to have some higher than usual waves on portions of its southwestern coastline.
Ernesto has not gained in strength over the last 24 hours but at 11:00 a.m. Cuba time (EDT) the National Hurricane Center (NHC) in Miami now predicts the storm will reach 75 mph hurricane strength by sometime later on Monday.
The Cuban Weather Service (INSMET) will issue its next report at 12:00 noon (EDT) on Monday.