UN Votes Wednesday on Resolution against US Embargo on Cuba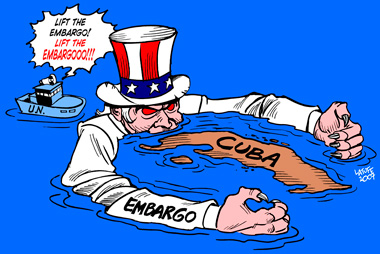 HAVANA TIMES – The UN General Assembly will once again vote on Wednesday to condemn the US embargo on Cuba. The non-binding resolution has been submitted by Cuba for the last 25 years, receiving overwhelming approval.
The United States announced Tuesday that it will vote against the resolution calling for an end to its half century embargo on Cuba, reversing the position that the Obama administration adopted last year with the first US abstention in the history of that vote.
"We will vote against the resolution," Heather Nauert, spokeswoman for the US State Department, told a news conference today. "Ambassador (Nikki) Haley will reverse the position" adopted last year by the Obama administration, she said.
Since 1992, Cuba has submitted a resolution to the United Nations every year that calls for an end to the US blockade of the island, a decision that only the US Congress can take. The United States had always voted against the resolution, together with Israel.
However, last year, after the thaw driven by Obama and Cuban President Raul Castro, and the restoration of diplomatic relations, Washington abstained on that vote. The resolution was approved with 191 votes in favor and two abstentions: that of the United States and Israel.
Faced with the impossibility of lifting the embargo due to the opposition in Congress, Obama opted to soften some aspects within his presidential powers.
The arrival of Trump to the White House in January of this year brought a change in US policy toward Cuba. Although diplomatic relations remain, they have cooled considerably. Trump announced changes in his country's Cuba policy in June, with a reinforcement of the embargo.
To questions from the press, spokeswoman Nauert denied that the decision on tomorrow's vote in New York is related to the mysterious health attacks allegedly suffered by US diplomats in Havana.