US Business Coalition Wants Congress to End Embargo on Cuba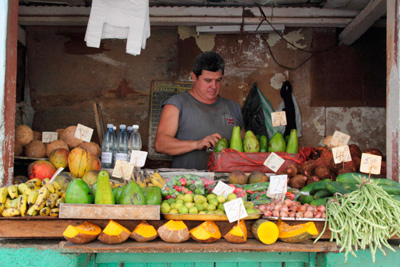 HAVANA TIMES – A coalition of US agribusiness interests and legislators will present their campaign to life the US embargo on Cuba today at the National Press Club in Washington D.C.
The following is a press release from the newly formed agricultural coalition:
U.S. Agricultural coalition launches push to lift Cuban embargo
Washington, D.C. – More than 30 prominent U.S. food and agriculture companies and associations have formed a coalition that seeks the end of the U.S. embargo on Cuba and to advance trade relations between both nations. The U.S. Agriculture Coalition for Cuba (USACC), founded in early 2014, is united around the opportunity presented by a deeper U.S.-Cuba relationship and committed to ending the embargo and allowing open trade and investment to occur.
What: Public Launch of the U.S. Agriculture Coalition for Cuba (USACC)
Featuring: The Honorable Tom Vilsack, U.S. Secretary Agriculture (confirmed)
The Honorable Jay Nixon, Governor of Missouri (confirmed)
The Honorable Amy Klobuchar, U.S. Senate (confirmed)
The Honorable Jerry Moran, U.S. Senate (invited)
The Honorable Sam Farr, U.S. House of Representatives (confirmed)
The Honorable Kevin Cramer, U.S. House of Representatives (confirmed)
The Honorable Rodney Davis, U.S. House of Representatives (confirmed)
When: Thursday, January 8, 2015
2:00 p.m. to 3:30 p.m.
Where: National Press Club
529 14th St. NW, 13th Floor
Washington, DC 20045
USACC Members: American Farm Bureau Federation, American Soybean Association, Corn Refiners Association, Illinois Cuba Working Group, Illinois Soybean Growers, Illinois Farm Bureau, International Dairy Foods Association, National Association of State Departments of Agriculture, National Association of Wheat Growers, National Barley Growers Association, National Chicken Council, National Corn Growers Association, National Council of Farmer Cooperatives, National Farmers Union, National Grain and Feed Association, National Sorghum Producers, National Milk Producers Federation, National Oilseed Processors Association, National Turkey Federation, North American Export Grain Association, North American Meat Institute, Soyfoods Association of North America, United Soybean Export Council, US Canola Association, US Dairy Export Council, US Dry Bean Council, US Wheat Associates, USA Rice Federation, Chicago Foods International, Cargill and CoBank.