US Executives Tour Cuban Auto Repair Co-op
Questions workers about the switch from State company to cooperative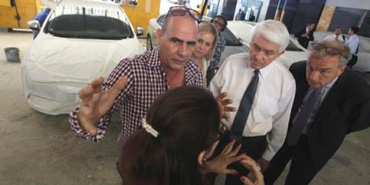 HAVANA TIMES – Thomas J. Donohue, president of the U.S. Chamber of Commerce, on Wednesday visited an automotive repair cooperative in Havana, where he maintained a "fluid" chat with the workers, Radio Habana reported.
"Donohue was interested in the 'before and after' of this enterprise […] about how workers are hired and protected," said Marcelo González, manager of the Vehicle Reconstruction Cooperative in the Cerro municipality of Havana.
As part of its economic reforms, the government last year authorized the operation of trades and services cooperatives as complements to the state-run enterprises. In the past it allowed only agricultural cooperatives.
The government says that the number of nonagricultural cooperatives is about 450.
The auto repair cooperative visited by Donohue and members of his entourage was created 10 months ago, according to Radio Habana. It has 58 partners, whose income is reportedly in the $300-dollar-a-month range.
The cooperative system "gives us the freedom to manage ourselves, which allows us to increase our work volume and make decisions about our own resources," González told The Associated Press. Since the cooperative's launching, "productivity has increased a lot," he said.
The Reuters news agency quoted Donohue as saying that "I have been free to go wherever I wanted. I'm talking with people in the private sector and the public sector. We're going to meet with small businessmen. We are meeting with people from other countries who are operating here. I believe we're going to have a fair look around and are enjoying ourselves."
Donohue, a champion of capitalism and free enterprise, has opposed for years the trade embargo the U.S. has imposed on Cuba (which the Cubans call "blockade") saying that it runs counter to his country's commercial interests.
Washington and Havana broke diplomatic relations in the early 1960s. The trade embargo was imposed 52 years ago. An exception to the embargo allows Cuba to buy some food and agricultural products from the U.S. Those purchases totaled $509 million in 2012.