US Fines Argentine Company $2.8 million for Cuba Embargo Violation
HAVANA TIMES — Despegar.com, a popular travel agency based in Argentina, has agreed to pay a US $2.8 million fine for conducting transactions that allegedly violated the provisions of the US embargo on Cuba.
This past Tuesday, The Office for Foreign Assets Control (OFAC) of the US Treasury Department reported that, between 2009 and 2012, a branch of the firm in Delaware accepted a total of US $2,809,800 arising from operations involving Cuban interests or the interests of Cuban citizens.
According to the report, the travel agency (also named Decolar.com) offered services to some 17,834 persons, who purchased air tickets or booked hotel rooms for stays in Cuba or third countries, without due authorization from OFAC.
The allegedly illegal transactions (for a total of US $4,460,000) took place between March 2, 2009 and March 31, 2012.
Cooperating with the Authorities
The OFAC report concluded that the management of the company was aware that its subsidiaries abroad were providing Cuba-related services to citizens of third countries, not knowing that this could constitute a violation of US Treasury Department regulations.
"The apparent violations resulted in significant damage to the objectives of the US sanctions program related to Cuba," the report indicated.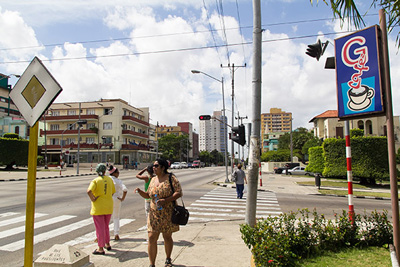 Among the extenuating circumstances, Treasury Department investigators determined that the Cuba-related transactions represented only a small fraction of Despegar.com's business and that the company had not been penalized for violating OFAC norms in the past five years.
Authorities also took into consideration the fact the agency's owners immediately cooperated with the federal investigation and suspended all services linked to the purchase of air tickets or hotel reservations on the island.
Despegar.com operates in 23 countries in Latin America, Spain and the United States, offering reservation and tourist service packages through its Internet portal. It entered the market in December of 1999 with the aim of sparing travellers long line-ups in front of airline ticket booths.
The company is the second tourism agency based outside the United States to receive a fine from the US Treasury Department last month. In mid-April, the Dutch firm Carlson Wagonlit Travel (CWT) was forced to pay a fine of US $5.9 million for offering Cuba travel services to more than 44,400 travelers between 2009 and 2012.
Though CWT is based in Holland, the majority of its shares have been owned by US interests since 2006. As such, the agency must abide by Treasury Department regulations.
During the Obama administration, most fiscal controls and the bulk of all fines applied by the Treasury Department in connection with violations of the US embargo have been aimed at banking institutions.