US Sanctions Head of Nicaragua's Electoral Council for Fraud and Corruption
The Treasury Dept. freezes all assets that Roberto Rivas may have in the United States
By Ivan Olivares (Confidencial)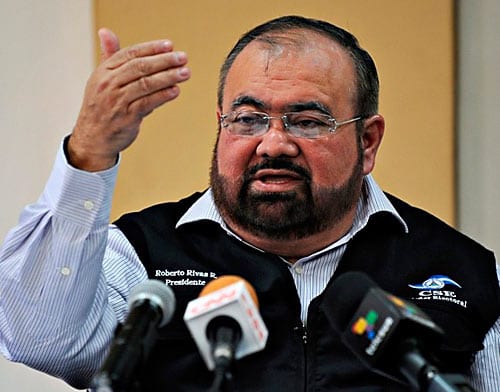 HAVANA TIMES – A day after the Organization of American States OAS endorsed the results of the disputed municipal elections in Nicaragua, President Donald Trump included Roberto Rivas, president of the Supreme Electoral Council, on a list of "people involved in serious human rights abuses or corruption," based on the Magnitsky Global Law, within the framework of the Office of Foreign Assets Control (OFAC, for its acronym in English).
The list includes fourteen other citizens from Guatemala, the Dominican Republic, Gambia, South Sudan, Russia, Belgium, China, Israel, Uzbekistan, Pakistan, Myanmar (Burma), and Serbia, as well as 37 companies from various parts of the world.
Both lists are part of an 'executive order', signed by Trump, on the grounds that "corruption and the abuse of human rights undermine the values that constitute an essential foundation for the functioning of stable and secure societies, and have devastating effects on individuals, weaken democratic institutions, degrade the rule of law, perpetuate violent conflicts, facilitate the activities of dangerous people, and undermine economic markets. "
Trump determined that all the goods and assets of the individuals and companies affected, that are in the United States, or that come in the future to that country, or that at any time to come may be of the possession or control of any person in the United States, "are blocked and cannot be transferred, paid, exported or withdrawn."
The original argument to consider that Rivas was worthy of the sanctions, points out that the head of the Electoral Council has worked in the service of commander Daniel Ortega, for more than a decade, to deny the Nicaraguans the right to free and transparent elections.
Confidencial published earlier this month, that "the senators and congressmen also based their arguments on the recent US State Department report on human rights practices, opposition reports in Nicaragua, and newspaper investigations of La Prensa and Confidencial, which document accusations of corruption against Rivas that signal him to having a fortune in real estate, mansions, yachts and jet planes, while receiving only US $5,000 per month in salary from the government ".
On that occasion it was noted that the Acting Assistant US Secretary of State of the Office of Economic and Business Affairs, Patricia M. Haslach, emphasized that sanctions under the Magnitsky Law can be applied in any country in the world, without the need for laws with specific sanctions previously approved.
The "Magnitsky Act creates an additional authority to allow the US administration to respond to crises and seek accountability, even when there are no specific sanctions programs," Haslach explained.
Republican congresswoman Ileana Ros-Lehtinen calls for the sanctions to be extended to Francisco Lopez, vice-president of Albanisa, the company set up by Daniel Ortega to handle billions of dollars of funds from Venezuela.