USA Baseball Team Set for Toronto Pan American Games
By Ray Otero  (baseballdecuba.com)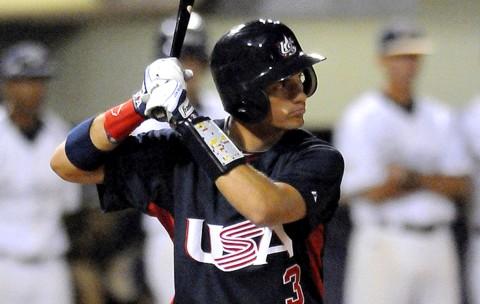 HAVANA TIMES — USA Baseball announced the roster of its team to take part in the Toronto Pan American Games baseball tournament from July 11 to 19. The final Cuban roster is still pending last minute changes.
Team USA's roster consists of 24 players, minor league players, including top propects, under contract with the different Major League organizations.
The Kansas City Royals lead with four players on the roster. The Chicago Cubs, Arizona Diamondbacks, Philadelphia Phillies and Texas Rangers each placed two players on the roster announced, while the rest of the players are divided among 12 other clubs.
Among those named is the Chicago Cubs outfielder Albert Almora, one of the top prospects of the organization, ranked # 49 in the ranking of the top 100 prospects MLB announced this year. The roster also includes pitcher Aaron Blair of the Arizona Diamondbacks, a young prospect who was recently promoted to Triple-A, after being selected 36th in the 2013 amateur draft.
Four of the players have considerable on previous editions of Team USA. These include Tommy Murphy (University 2011), Casey Kotchman (16U 1998-1999) and Jake Barrett (18U 2008). The last of the experienced is Almora himself, who appears for the seventh time on a national team to any category (14U 2007-2008 2009-2010 16U, 18U 2010-2011).
The Team USA manager is Jim Tracy, who will be accompanied by coach Marcel Lachemann, hitting coach Ernie Young, and assistants Jim Lett and Roly de Armas. Tracy, has 856 wins and 11 years of experience at the Major League level.
The USA, which is scheduled to play its first game in the tournament facing Puerto Rico on Saturday  July 11th, is seeking its first Pan American tournament title since 1967, in Winnipeg, Canada.
Cuba is set to open also on July 11th vs. Colombia.  The two long time rivals, USA and Cuba, will face each other in the qualifying round on Sunday July 12th. The other teams in the tournament are the Dominican Republica, Canada and Nicaragua
Here is the roster:
Name, Position, Birthplace, Organization
Albert Almora, OF, Hialeah, Fla., Chicago Cubs
Jake Barrett, RHP, Upland, Calif., Arizona Diamondbacks
Buddy Baumann, LHP, Chicago, Ill., Kansas City Royals
Aaron Blair, RHP, Las Vegas, Nev., Arizona Diamondbacks
Brian Bogusevic, OF, Oak Lawn, Ill., Philadelphia Phillies
Dusty Coleman, IF/OF, Sioux Falls, S.D., Kansas City Royals
Casey Coleman, RHP, Fort Myers, Fla., Kansas City Royals
Zach Eflin, RHP, Orlando, Fla., Philadelphia Phillies
Brian Ellington, RHP, Gainesville, Fla., Miami Marlins
Eric Fryer, C, Columbus, Ohio, Minnesota Twins
Josh Hader, LHP, Millersville, Md., Houston Astros
David Huff, LHP, Hunnington Beach, Calif., Los Angeles Dodgers
Travis Jankowski, OF, Lancaster, Pa., San Diego Padres
Ryan Kelly, RHP, Hilton Head, S.C., Atlanta Braves
Patrick Kivlehan, OF, Nyack, N.Y., Seattle Mariners
Casey Kotchman, IF, St. Petersburg, Fla., Kansas City Royals
Scott McGregor, RHP, Cincinnati, Ohio, Washington Nationals
Tommy Murphy, C, West Monroe, N.Y., Colorado Rockies
Andy Parrino, IF, El Cajon, Calif., Oakland Athletics
Tyler Pastornicky, IF, Bradenton, Fla., Texas Rangers
Nate Smith, LHP, West Chester, Ohio, Los Angeles Angels
Jake Thompson, RHP, Rockwall, Texas, Texas Rangers
Dan Vogelbach, IF, Orlando, Fla., Chicago Cubs
Jacob Wilson, IF, Bartlett, Tenn., St. Louis Cardinals
Cuerpo de dirección
Jim Tracy, Manager, Hamilton, Ohio
Marcel Lachemann, Pitching Coach, Nipomo, Calif.
Ernie Young, Hitting Coach, Scottsdale, Ariz.
Jim Lett, Assistant Coach, Charleston, W.V.
Roly de Armas, Assistant Coach, Palm Harbor, Fla.
Administración
Joe Garagiola, Major League Baseball, Phoenix, Ariz.
Paul Seiler, CEO/Executive Director, Cary, N.C.
Eric Campbell, General Manager, National Teams, Raleigh, N.C.
John Fierro, Head Athletic Trainer, Gilbert, Ariz.
Fred Dicke, Team Physician, Gilbert, Ariz.
Cameron Harris, Press Officer, Lawton, Okla.