USA-Cuba Tonight in Semi-pro Boxing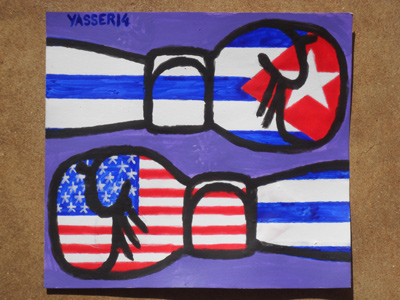 HAVANA TIMES — While many Havana sports fans will be watching game six of the Industriales-Pinar del Rio baseball game tonight, boxing lovers will also be out in force to see the first of a two-part quarterfinals match up of the World Series of Boxing (WSB).
The Cuba Domadores meet the USA Knockouts at the Ciudad Deportiva Sports City arena in the capital. The second part of this semifinal match up will take place in Salem, New Hampshire on April 12.
The card for tonight's action is as follows:
Flyweight (52kg)
Gerardo CERVANTES (Cuba Domadores) vs. Eros CORREA (USA Knockouts)
Lightweight (60kg)
Lazaro ALVAREZ (Cuba Domadores) vs. Luis Martin ARCON DIAZ (USA Knockouts)
Welterweight (69kg)
Roniel IGLESIAS SOTOLONGO (Cuba Domadores) vs. Gabriel MAESTRE (USA Knockouts)
Light Heavyweight (81kg)
Emilio CORREA (Cuba Domadores) vs. Michel BORGES DE SOUZA (USA Knockouts)
Super Heavyweight (91+kg)
Yoandi TOIRAC (Cuba Domadores) vs. Mohamed SALLAH (USA Knockouts)
Cuba finished in first place in its group during the qualifying round of the WSB with a 9-1 record while the USA finished fourth in their group with a 4-6. The other quarter finals contending boxing stables are from Russia, The Ukraine, Italy, Azerbaijan, Kazakstan and Germany.
See this related story with the results of the USA-Cuba clash.