USA Knockouts Tamed in Cuba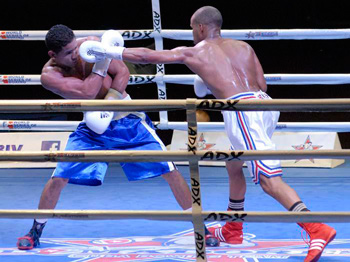 HAVANA TIMES — The first of two awaited semi-professional match-ups between boxers of the US Knockouts and Cuba Tamers proved rather one sided on Friday evening in Havana. Before a packed Sports City Arena of 16,000 fans the home squad won all five of its matches.
Still to come in this World Series of Boxing quarterfinal contest are the other weight divisions to be contested on April 12 in Salem, New Hampshire.
This year with their entry into semi-pro boxing the Cubans are boxing without the usual amateur head protectors.
According to the WSB website the best match on Friday night proved that between Lazoro Alvarez (60 kg) and Luis Arcon Díaz (a Venezuelan boxing on the USA team) with the scorecards reading (50-45, 49-46 y 49-46).
In the heavyweight clash Yoandi Toirac (91+) had an easy time against a slow moving Mohamed Sallah, a Swedish fighter on the USA team, (50-44, 50-45 y 50-44).
London Olympic champ, welterweight Roniel Iglesias, put away Venezuelan Gabriel Maestre in the third round, with his first knockout in WSB competition.
Emilio Correa (81 kg) a silver medalist at Beijing 2008, wasn't at his best form but outclassed his USA Knockouts Brazilian rival Michel Borges de Souza (49-46, 49-46 y 50-45).
Flyweight Gerardo Cervantes won his bout the day before when his USA Knockouts rival Eros Correa failed to make the weight.
For all the information on the World Series of Boxing visit the official website.