Venezuela: L.A. Countries Want Maduro Out but Oppose War
By Sinikka Tarvainen (dpa)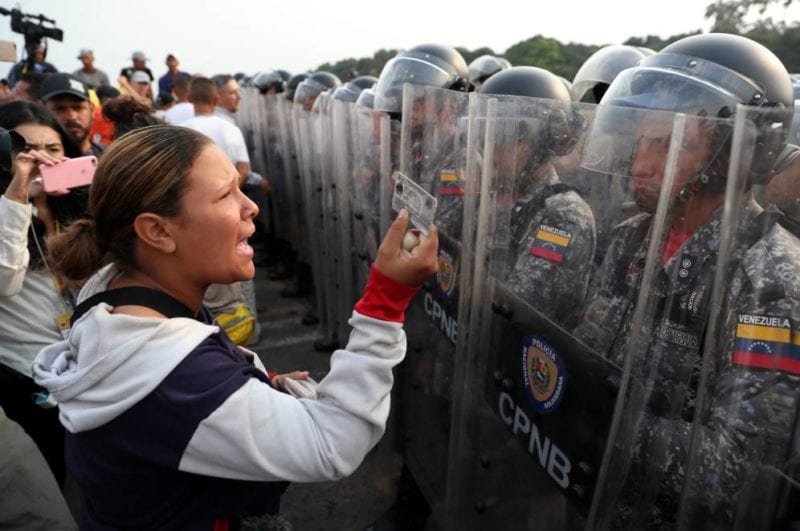 HAVANA TIMES – Ten Latin American countries and Canada on Monday rejected the use of force to solve the Venezuelan crisis, while Washington said that "all options" remained on the table.
Venezuelans need to conduct a democratic transition "peacefully and within the framework of the constitution and international law," the Lima Group of American countries said in a joint declaration after meeting in Bogota.
A solution needs to be found through "diplomatic means without resorting to the use of force," which "only produces dead and injured [victims]," Peru's Deputy Foreign Minister Hugo de Zela said.
However, US Vice President Mike Pence told the meeting that while "we hope for a peaceful transition to democracy… all options are on the table." [The US has a long history of acting unilaterally in what it considers its backyard.]
The meeting took place after the Venezuelan army and militias violently repelled attempts by opposition leader Juan Guaido to bring hundreds of tons of humanitarian aid into the country on Saturday.
President Nicolas Maduro's government prevented aid trucks from entering from Colombia and Brazil. Maduro regards the aid as a disguise for a US military intervention designed to topple him.
At least four people were killed and more than 300 injured in the clashes.
"[Our] efforts to date will not only continue, they will be increased," Pence said, adding that Washington was identifying new border areas at which to store more aid.
The United States will also provide an additional 56 million dollars "to support our partners in the region as they come to the aid of the Venezuelan people," the vice president said.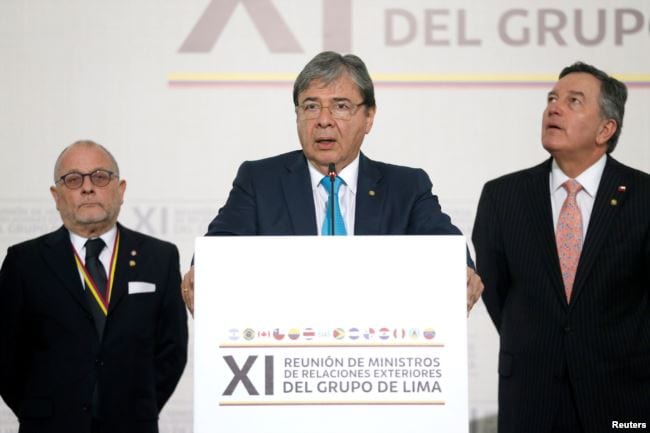 He announced new sanctions on Venezuelan officials, including three border-state governors who contributed to blocking aid supplies. The sanctions freeze any assets they may have in the US and prohibit US citizens from doing business with them.
Maduro won a second term in an election widely seen as undemocratic last year. Guaido, whom about 60 countries have recognized as Venezuela's interim president, wants Maduro to resign and to call a fresh poll.
The Lima Group said it demanded "the immediate exit of usurper Maduro," whose government represents "an unprecedented threat for security … in the entire region," and the entry of humanitarian aid.
The Lima Group will ask the International Criminal Court to intervene with human rights violations in Venezuela, according to the declaration, which was signed by Argentina, Brazil, Canada, Chile, Colombia, Guatemala, Honduras, Panama, Paraguay, Peru and the Venezuelan opposition.
Colombian Foreign Minister Carlos Holmes Trujillo said there was information about death threats against Guaido and his family and that any such events would force the Lima Group to take collective action against the regime.
The US meanwhile requested a meeting of the United Nations Security Council (UNSC) on the ongoing crisis in Venezuela for Tuesday, a diplomat from the council told dpa.
Mexican President Andres Manuel Lopez Obrador, whose country is one of the few in Latin America not to recognize Guaido as Venezuela's interim leader and who did not attend the meeting in Bogota, warned against "the temptation to use force."
"Mexico reiterates its call to all the players … to categorically reject the use of force," the government said in a statement.
Washington will meanwhile announce "even stronger sanctions on the regime's corrupt financial networks," Pence said, calling on the Lima Group to "intensify efforts to deny the Maduro regime access to financing."
Guaido wants to bring aid supplies to about 300,000 people who, he says, are at risk of death due to acute shortages of food and medicine.
Venezuelan security forces on Saturday used tear gas and rubber bullets against aid convoys and protesters on the border of the Colombian city of Cucuta, where hundreds of tons of aid donated by the US, Chile and Puerto Rico have been stored. Two trucks carrying aid were set on fire.
Pence and the Lima Group called on the Venezuelan army to disobey Maduro and to allow aid deliveries. Colombia's migration authority says 167 Venezuelan security force members have already defected and crossed over into Colombia.
However, they only form a small part of the Venezuelan security forces. The army has about 200,000 members and the vast majority of them remain loyal to Maduro.
Maduro has presided over a massive economic crisis, with annual inflation running at millions of per cent. More than 3 million Venezuelans have fled goods shortages and political unrest abroad.