Venezuela: Leopoldo Lopez Leaves Prison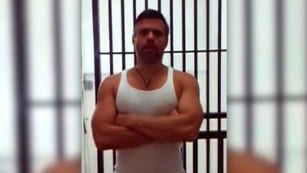 HAVANA TIMES — Venezuelan opposition leader Leopoldo Lopez was released from jail to continue serving his sentence in house arrest as a humanitarian measure, the Supreme Court of Justice (TSJ) confirmed on its Twitter account today.
The president of the TSJ, Maikel Moreno, made the decision as a "humanitarian measure adjusted to the Law" alleging health problems of Lopez, reported dpa news.
Henry Ramos Allup a National Assembly deputy and another opposition leader, said on his Twitter account that the house arrest for Lopez "must be a move toward full freedom."
Leopoldo Lopez, 46, was sentenced in 2015 to almost 14 years in prison for instigating the 2014 protests against the government of Nicolas Maduro in which 43 persons were killed across the country. So far he has served more than three years in a military prison, in the neighboring city of Los Teques.
Various governments and human rights organizations consider him a political prisoner, something that the Maduro government rejects.
Lopez family spent months without being able to visit him and in late June his wife Lilian Tintori reported that Leopoldo was being tortured in jail. Tintori published a comment on her Twitter account on Friday announcing that she had finally been able to visit Lopez for an hour, after 32 days without being able to do so. "I demand that tomorrow I can see him with my children," she wrote a day before his release from prison.
The Spanish attorney Javier Cremades, one of Lopez's lawyers, had advanced the news to the newspaper "El País" and other Spanish media, which generated the first reactions in Madrid.
"I'm happy that Leopoldo Lopez has returned home with Lilian Tintori and his children. I am also happy for his parents," wrote Spanish Prime Minister Mariano Rajoy on his Twitter account.