Venezuela Sacks Ambassador to Cuba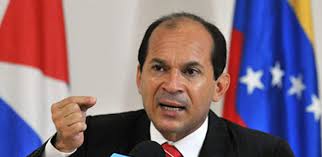 HAVANA TIMES — The Venezuelan government dismissed Edgardo Antonio Ramírez on March 21 as its ambassador to Cuba, a key post in the country of President Maduro's chief ally, at a time of political turmoil at home, reports La Opinion.com.
While no reason for the sudden removal of the ambassador was given, a possible mishandling of funds is not out of the question.
In the coldly worded resolution published in the Venezuelan Gaceta Oficial, Foreign Minister Elías Jaua simply states that "citizen Edgardo Antonio Ramírez ceases" to be the Venezuelan ambassador to Cuba.
The statement adds that Ramírez must present a sworn declaration of his personal assets in compliance with article 23 of Venezuela's anti-corruption law, a requirement of all Foreign Service officials.
Ramirez was appointed to the post of ambassador to Cuba in May 2011 by the then president Hugo Chávez.