Vietnam Becomes Cuba's Second Most Important Asian Partner
By Pilar Montes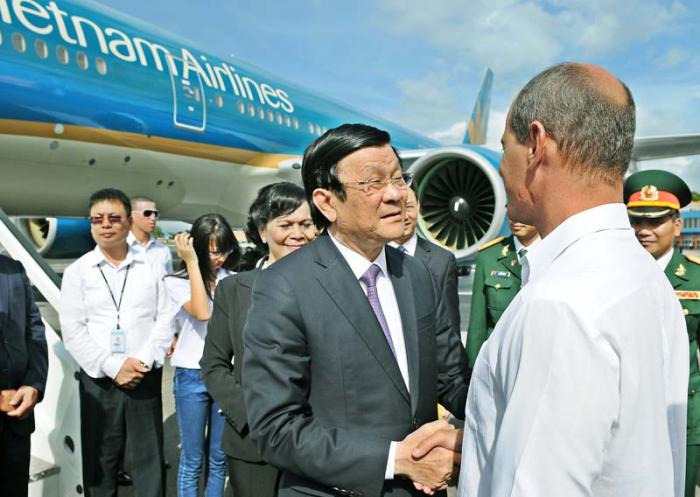 HAVANA TIMES — The Vietnamese, traditionally regarded as the poor brothers-in-arms who fought against the French and the United States and won, will surely be seen in a different light by Cubans after the Vietnamese President's visit to the island, which came to a close this October 1.
This outdated image of Vietnam is in part owed to the distance between the two nations and, to a great extent, the lack of precise information regarding the country's political and economic achievements – about how, with a stoic discipline worthy of imitation, they have managed to reconstruct a ruined country in only three decades.
Vast areas of the country were incinerated (along with thousands of their inhabitants, particularly the most vulnerable) by Agent Orange. Cuba sent medical and agricultural aid, helping the country restore its poultry and coffee industries.
I still remember how Vietnamese students in East European boarding schools, humbly seeking to earn a degree, lived in groups of two on a single stipend, sharing articles of clothing to save money and return home with the electrical appliances one could not find in their impoverished nation.
Today, however, they are paying Cuba back for its solidarity with experts on rice, soy and maize. Vietnam has become the world's second largest exporter of rice and the first exporter of coffee, while the Cuban economy still struggles to become more efficient (blaming everything on the US blockade).
Vietnam is making investments abroad and comes to Cuba in search of knowledge and medications, the only two areas where the island has achieved greater development.
Six Agreements
Vietnamese firms and banks signed six agreements with Cuba in Havana as a result of the 1st Bilateral Business Forum, before Vietnamese President Truong Tan Sang, Cuban Vice-President Ricardo Cabrisas and officials from both governments.
Around fifty businesspeople accompanied the Vietnamese leader on his visit to Cuba, scheduled to end today. They met with their counterparts on the island for the 55th anniversary of relations between the two countries.
President Truing Tan Sang addressed forum participants and acknowledged that the reform of Cuba's economic model (begun in 2009) has created favorable conditions for foreign investors, such that more Vietnamese entrepreneurs are sure to become interested in investing in Cuba.
Tan Sang added that Vietnam will continue to offer Cuba technical support to improve its rice production, and that he will visit the plantations where Vietnamese experts are working. In this connection, he said that 400,000 tons of rice had been produced in the country and that an additional 300,000 were still to be imported. "To continue broadening cooperation, we will also work together in soy and maize plantations," he added.
The Vietnamese leader said that trade with Cuba was still beneath its full potential and explained that Vietnam exports some 200 million dollars in products per year and imports a mere 10 million. "We have to do more in terms of cooperation and investment," he stated.
Vice-Chair of the Council of Ministers Ricardo Cabrisas underscored the benefits of Vietnam's support for Cuba's food program, particularly rice production.
Cuba's bio-pharmaceutical sector stands out for exporting to Vietnam medications that contribute to the development of the country's public health sector. In this connection, Cabrisas reported that BioCubaFarma is now working together with Vietnamese companies.
With these new agreements, Vietnam has become Cuba's second most important economic partner in Asia (behind China). According to the Chair of Cuba's Chamber of Commerce Orlando Hernandez Guillen, in the first half of 2015 alone, trade with the land of Ho Chi Minh has grown by nine percent.
Vietnam's Bank for Agriculture and Rural Development signed separate agreements with the Cuban National Bank and the Cuban International Financial Bank to broaden relations in the agricultural sector.
Another agreement provides for the creation of a joint venture company that is to build a 5-star hotel in Havana, under the management of Cubanacan.
Similarly, agreements for the creation of a joint venture in the Mariel Special Development Zone were also signed. The company will produce and market detergent by the Cuban company Suchel-Int. Cuba's oil company CUPET and PetroVietnam also signed a memorandum of understanding aimed at increasing oil production on the island.