Weeklong Police Siege of a Church in Masaya, Nicaragua Continues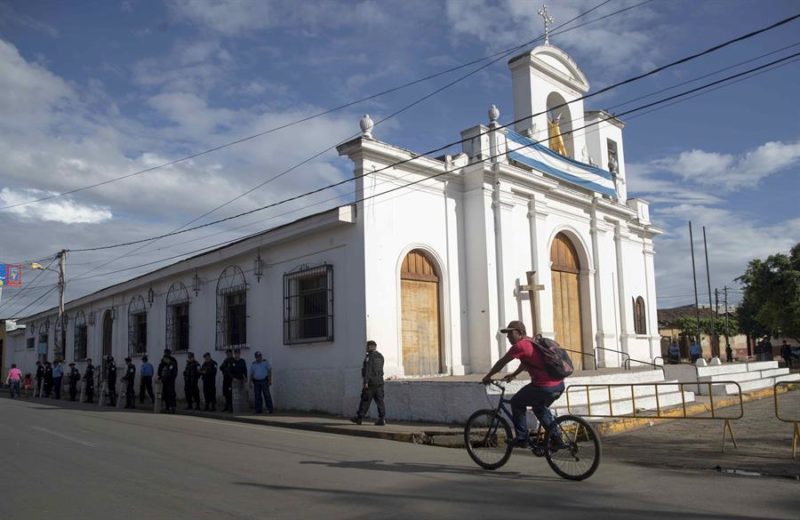 Police continue to deny access to water and medicine, but allows supporters of the Ortega dictatorship to come and insult those in the temple.
By Ivette Mungia (Confidencial)
HAVANA TIMES – This Thursday marks a week since the priest Edwin Roman and a group of mothers of political prisoners remain isolated in the Saint Michael Archangel church in Masaya.
The police cordon has been strengthened to prevent the entry of supplies to the parish and communication with the people trapped is more difficult every day that passes due to the lack of water and electricity in the church.
The priest, who has said he will not leave the church without his parishioners, continues to denounce the treatment of those who are trapped in the temple. During Wednesday night the Police allowed a group of supporters of Daniel Ortega's Sandinista Front to reach the park in front of the church to shout insults and threats against the priest and the mothers on a hunger strike.
The Police, which has cordoned the perimeter of the Saint Michael Church, also allowed workers of the electricity distribution company to leave an invoice under one of the doors of the temple, a situation that Father Roman considered a mockery since the service has been suspended since the first day of the strike.
The women who are on a hunger strike demanding the release of their children held as political prisoners have presented weakness due to fasting, while the priest, who is diabetic, presents dehydration and widespread discomfort.
The Church remains surrounded since November 14, in a new escalation of fanatics of the Ortega-Murillo dictatorship, which accuses the country's priests and bishops of being promoters of an alleged coup d'état, as the regime calls the citizens' protests. The Ortega supporters also took over the Managua Cathedral, beating a priest and a nun, but that temple has been recovered.
Cardinal Leopoldo Brenes recently said that Father Edwin Roman has decided not to leave the temple because it "is his home" and as the parish priest he "feels a moral commitment to be helping" those who are on hunger strike and because he considers "their demands are just."
Meanwhile on Monday, Daniel Ortega's Prosecutor's Office criminally accused 13 young persons of the Blue and White Unity movement after they attempted to bring water last Friday night to the mothers on their hunger strike. They were all charged with the fabricated crime of illegally transporting weapons.