West Wins Cuba All Star Game 13-9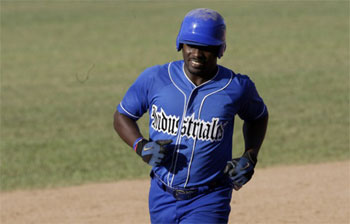 HAVANA TIMES — Cuba held its All Star Baseball game on Sunday and now prepares to resume the 2012-2013 season with a full schedule on Tuesday.
The game took place before a good crowd in Sancti Spiritus and a national TV audience. The Occidentales (West) won the batters' fest by a score of 13-9.
The game appeared to be in the bag for the eastern team (Orientales) with the score 9-6 in the bottom of the eighth.  But the Occidentales ralled for seven runs, more than enough to guarantee the victory.
The late rally was led by homers by Stayler Hernandez and Yasmani Tomás (who both play on the capital's Industriales team).
Other homers earlier in the contest came from Yoelvis Fiss (2) and Edilse Silva of the Orientales and Eriel Sanchez of Occidentales.
See the Boxscore.