Yoani Sanchez Meets with US Vice President Biden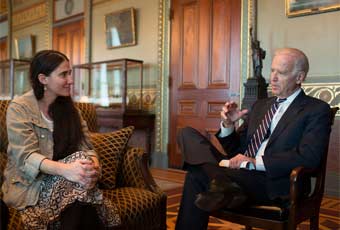 HAVANA TIMES — This Wednesday, in a show of support for Cuban civil society, US Vice-President Joe Biden met in Washington with Cuban blogger Yoani Sanchez, currently visiting the country for work reasons.
The meeting was confirmed in a Tweet published by the office of the Vice-President, which reported that Biden and Sanchez conversed about the challenges faced by defenders of freedom of expression on the island.
No other details regarding the more than half-an-hour gathering, held in a meeting room adjacent to the Vice-President's office, were made public. Sanchez reproduced the note in her own Twitter account, without offering any additional information.
Author of the blog Generation Y and a prominent figure of Cuban dissidence, Sanchez traveled to Miami to attend the conference Hispanicize and to receive the Latinovator Award, granted her in acknowledgement of her outstanding activism over social networks.
At the Hispanicize forum held in Miami Beach, Sanchez announced that, in a few weeks' time, she and 11 journalists will be launching a digital newspaper in Cuba. Though we know it will not have the name of her current blog, she has yet to reveal the name of the site.
Information: A Force for Change
"I am not a career journalist, but journalism is my passion," said Sanchez before participants at Hispanize. "I believe that information is a force for change and I dream of being part of the staff of a newspaper."
The articles to be published by Sanchez' newspaper will be distributed through emails and cell phones, of which there are already two million in Cuba, as well as through other electronic devices like USB drives.
This is 38-year-old Sanchez' third visit to the United States since Cuban authorities eliminated a number of travel restrictions on the island. The blogger was denied a permit to travel outside the country 28 times before finally being authorized to do so in February of 2013.
Though she had been received by several congress members and high officials of the US Department of State, this is the first occasion in which Sanchez comes into contact with the top leadership of the Executive.
In October, Biden offered Cuba's dissident movement the most significant accolade since Barack Obama entered office, meeting with Ladies in White leader Berta Solar. Days later, President Obama held a brief meeting in Miami with Soler and activist Guillermo Fariñas, who received the Sakharov Award in 2010.