Amaya Coppens Defends the Civic Struggle for Nicaragua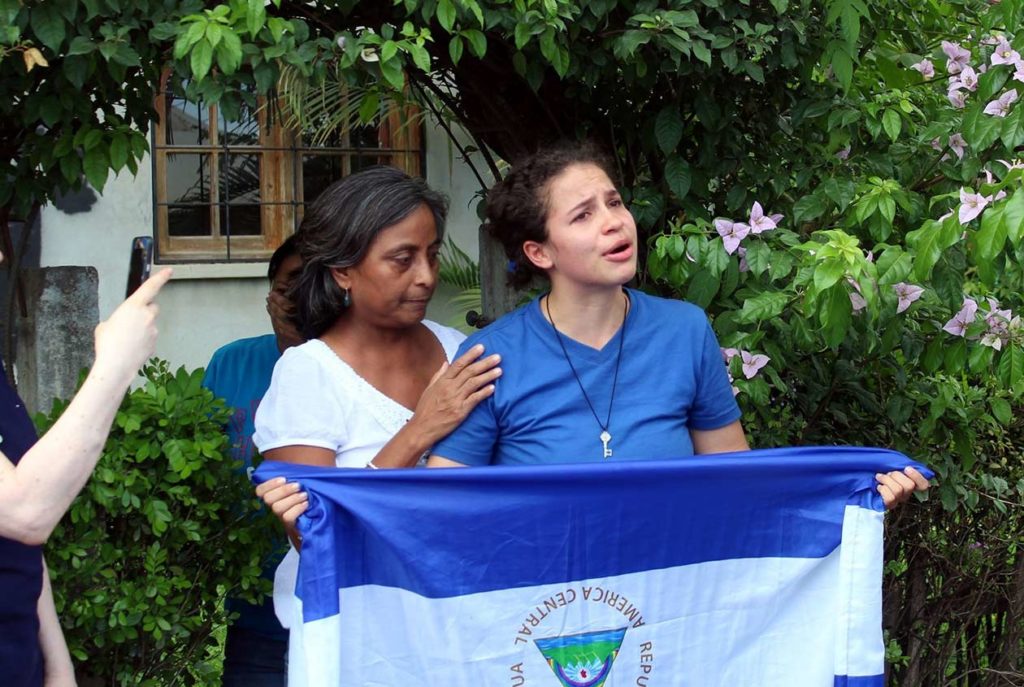 After 245 days in prison, Amaya Coppens continues convinced of having made the right decision: to be part of the struggle to free Nicaragua.
By Monica García Peralta (Confidencial)
HAVANA TIMES – Up until November, 2018, the Women's Autonomous Movement (MAM) and the Nicaraguan Center for Human Rights (Cenidh) had counted at least 39 women kidnapped by the Ortega dictatorship. Amaya Coppens, a medical student from the UNAN Leon, was abducted with a group of students while they were peacefully protesting. She was one of those released on June 11, 2019, 245 days later.
Her case is one of the most known worldwide, due to her Belgium-Nicaraguan nationality. In fact, last year a commission from the Belgium government visited her in prison and offered to take her out of the country. Amaya turned down the offer. She claimed at that moment and emphasizes now that she's free, that she could not abandon the other political prisoners.
"I knew that being imprisoned was a risk I was taking when going out on the streets and I took it. I wasn't going to turn back. I wouldn't have felt with a clean conscience leaving and abandoning the people who were in the El Chipote [interrogation prison] with me. In a way it would be betraying them", commented Amaya on the Esta Noche online TV program.
The last day before June 11, the day Amaya was released, was of immense solitude. Her last cell-mate, Karla Matus, had been released a few days earlier. "It really was hard to see the people leaving, and not only that, but to see that those who came last were the first to leave. It was pretty tough at the moral level, to be left alone in the cell was hard", explains the university student leader.
Committed to the university students' struggle
Now that Coppens has been released, she remains firm with her ideals. She claims to have no regrets for having participated in the marches, in the first protests over the forest fire in the Indio Maiz Reserve and the first protests against the Social Security reforms. It was something she felt she had to do. Seeing it in retrospect, the prison was a consequence which she had assimilated even while her family pressured her to leave the country in the days before she was detained.
"I don't regret it, because I'm confident about what I am doing," emphasizes Amaya, "however, I know it's something very difficult. I know many people in the university are not in agreement with what's happening, neither at the government level nor at the universities. For that reason, we are looking to continue in the university students' struggle", she says.
In regard to the Nicaraguan National Autonomous University (UNAN-Leon), where she studied, Amaya comments that it continues to remain kidnapped by the campus authorities and Ortega's UNEN student leaders, who during the first marches "went out and threw rocks at the elderly. There are videos. Besides, for years they have been forcing the kids to participate in marches in favor of the government and more. In reality, the UNAN-Leon is completely corrupt. There are no political discussions, only total servility towards the dictatorship", she sustains.
That is why she believes now more than ever that it's important to come together. She affirms that after just being released from prison, she is seeking a way to join and organize with other university students who continue to want to struggle for the university's autonomy, with those in the classrooms, those who were forced to go into exile and those who recently were released from different prisons around the country.
Out of prison, but without freedom
"Nobody here is going to be free, not I as a former political prisoner nor anyone who has not even set foot inside a prison. We are not free because we cannot exercise out rights as citizens. We cannot protest peacefully, because we're still under siege, there still are people in prisons and they continue imprisoning," underlines Coppens, when responding to how she feels now that she has been set free.
She adds that even though she is happy to see her family, she feels there has been no real change in Nicaragua, not even because she received a letter of release under the Amnesty Law, which is different from the first political prisoner releases under "house arrest."
The student leader claims the final objective, which has not yet been achieved, must not be lost for all Nicaraguans. "Amnesty is completely ridiculous. They are granting us a pardon as if we are criminals and we have done absolutely nothing. There's no need to pardon us. The people of Nicaragua are owed a pardon. We will not forget nor forgive, because we need justice and democracy," says Coppens.