Ernesto Cardenal: "I'm being persecuted politically by Ortega and his Wife"
Ortega and Murillo "own the country, right up to the courts, the police and the army," Cardenal stated.
By Wilfredo Miranda Aburto  (Confidencial)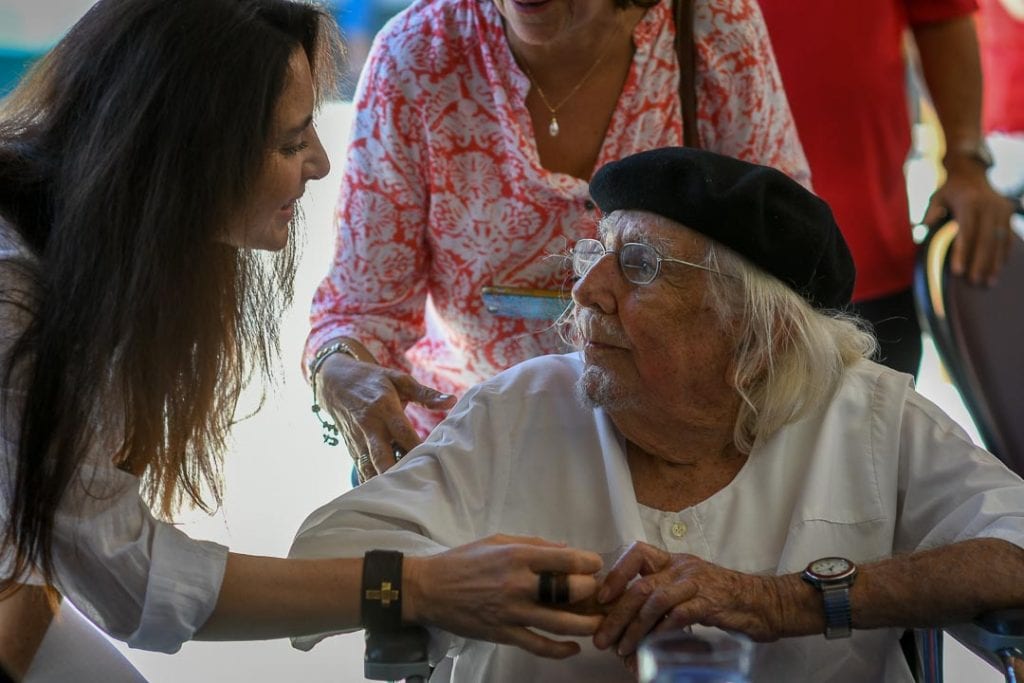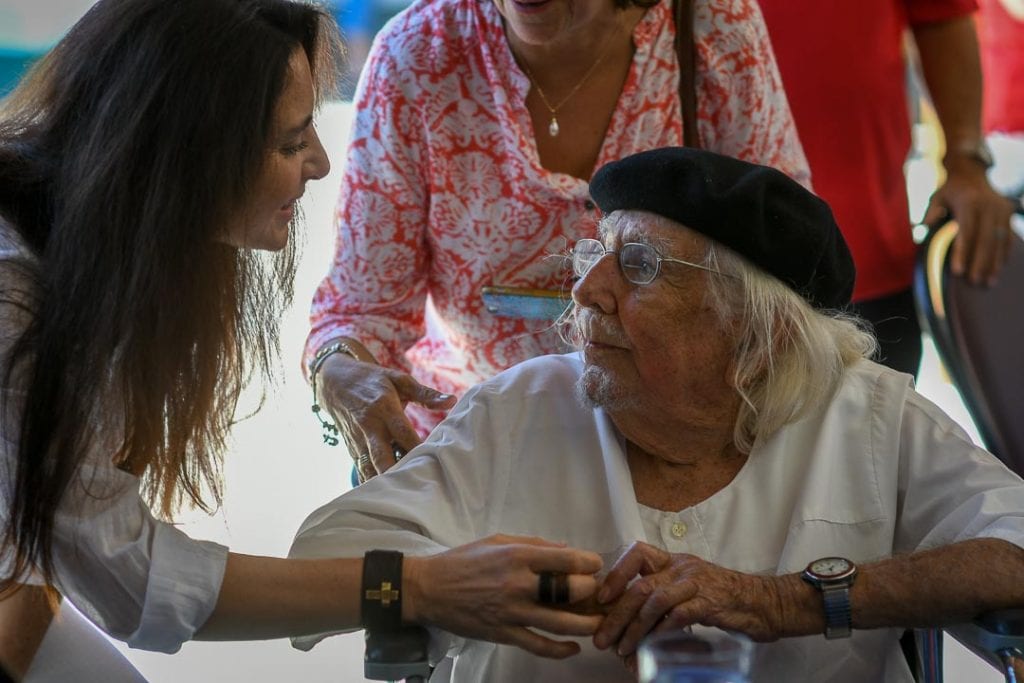 HAVANA TIMES – Poet Ernesto Cardenal arrived in Granada this past Tuesday to participate in the International Poetry Festival.  He was in a wheelchair, and seemed somewhat preoccupied.   His white hair strayed around his beret and was blown about by the wind that swept into the patio of the House of the Three Worlds cultural center.
"Poet Cardenal's here." "Poet Cardenal's outside" was the murmur that spread through the room where dozens of the world's bards discussed the declaration that was to be read during the event's closing ceremony.
Salvadorans, Hindus, Chileans, British, Mexicans and one Japanese participant approached Cardenal to express their solidarity against the US $800,000 penalty that the courts – under the control of Comandante Daniel Ortega – had imposed on him. "Teacher, I've been reading your works since I was young." "Poet, how I admire you – we're with you." Poet, you're not alone." These were some of the encouraging phrases offered to this standard-bearer for Liberation Theology and one of the most distinguished bards of the Spanish language.
"The only defense we have is solidarity," Cardenal commented to the Chilean poet Raúl Zurita, after taking a moment of calm amid so many demonstrations of affection and support.
Sparing in his words, but now less withdrawn, Cardenal declared himself "politically persecuted by the government of Daniel Ortega and his wife (Rosario Murillo)" "What more would you like me to say? This is a dictatorship," Cardenal snapped.
This was the first time Cardenal had made public reference to this legal issue since "La Gaceta" [The Gazette, official publication of legal determinations] published the court's sentence last Friday, finding him liable for US $800,000.  He didn't go into details, since for him the judicial action around the litigation with Nubia Arcia Mayorga is nothing more than a means of persecution against him.
Cardenal was gruff while answering reporters' questions.  He asked them to speak loudly, as his hearing is failing.  But when he responded, he did so in a clear, strong voice: "I'm glad that the entire world is finding out that I'm being politically persecuted in Nicaragua."
The poet was direct, without mincing words.  The words he did speak were few but forceful. "The government we have – the presidential couple of Daniel Ortega and his wife – is persecuting me.  They own all the powers in Nicaragua.  They have absolute, infinite power, power without limits, and that power is now set against me," Cardenal expressed, emphasizing the words by rapping his hands against the wheelchair support bars.
Cardenal carries a cane and can walk, but he prefers not to tire himself.  He signed books of poetry and at times allowed himself to be photographed.  The English-speaking poets spoke to him in English, but he responded in Spanish.  He commented on an anthology of Ezra Pound's poetry that the Mexican poet Lina Zeron placed in front of him.  He reminisced about poet friends from other times who couldn't attend the Granada Poetry Festival this year, mentioning specific places, festivals and dates that they had been together, so as to dispel any doubts.  Cardenal is lucid.  When he draws back, he shrinks into the wheelchair and observes everything around him.  Behind his glasses, his eyes are restless. He returned to face the public when another poet greeted him.
"I have no defense except God, who won't abandon me…and I have the support of many people who accompany me in these moments, but I can't say any more than this, because since it's a dictatorship, I can't talk anymore."  In this way, Cardenal excused himself from the topic of the payment imposed by a judge, preferring to comment on poetry on this humid Granada morning.
"Daniel Ortega and his wife are the owners of the whole country, right up to the courts, the police and the army," Cardenal stated.  By now, the poet was tired.  He asked his personal assistant, Luz Marina Acosta, where they were going to eat. They agreed on a place, and some poet friends accompanied Cardenal, who headed down a corridor of arches and colonial pillars.  Across the way, the obelisk in homage to the centennial celebration of Nicaragua's independence from Spain could be seen, along with Granada's cathedral, with its Nicaraguan flag beside that of the Sandinista Front and the green mass of the Mombacho volcano marking the horizon with its millennial stillness.