Nicaragua: "Fraudulent Management" of Venezuelan Aid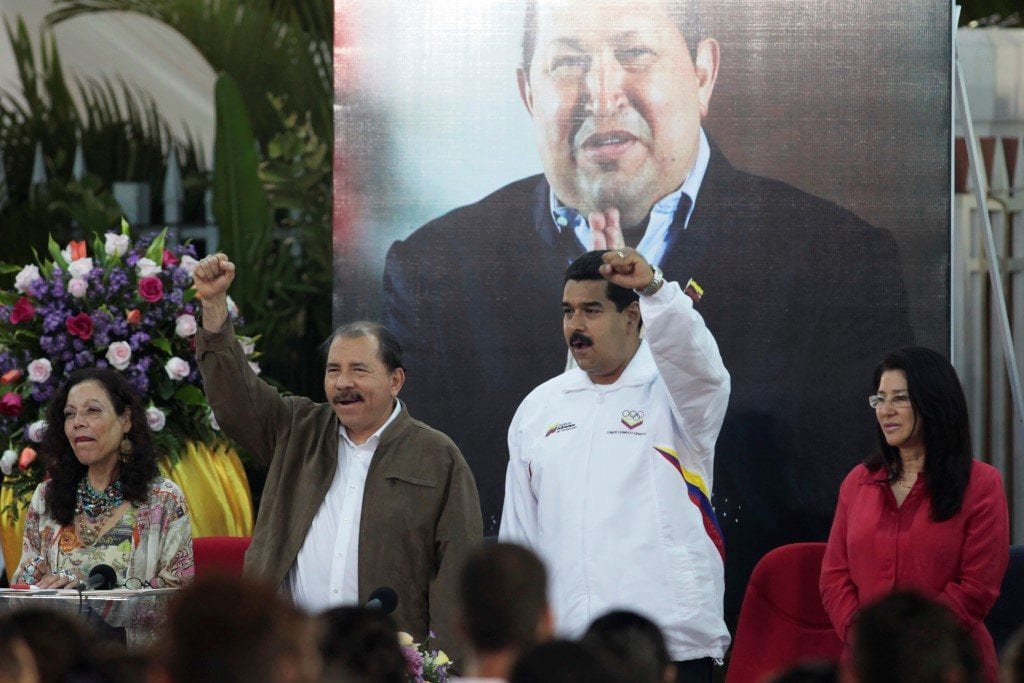 By Ivan Olivares  (Confidencial)
HAVANA TIMES – Politicians and economists coincide in their criticism of the opaque and inefficient management of resources originating from privatization of Venezuelan aid money over the last decade in Nicaragua.
The total received came to a little over $3.5 billion dollars over nine years, or more than a million dollars a day, as revealed in a series of special reports published by Confidencial and based on an analysis of 1,207 documents leaked from Albanisa [The private entity set up in 2007 to manage investment funds Nicaragua receives from Venezuela].
An analysis of the documents shows how the proceeds from the Venezuelan aid fostered an emporium of "nouveau riche" and a frenzy of projects spending the Venezuelan petrodollars as if there were no tomorrow: an airlines, silkworm cultivation, reactivation of cotton cultivation, a hotel for Edén Pastora, a car racetrack and more.
"When there's cloudiness, its purpose is to hide what's really there in the plan. This allows us to infer that a planning process existed, and that this included the continual maintenance of that cloudy atmosphere in order to cover up the true essence of the preconceived plan."
Enrique Sáenz, deputy for the MRS party, says the management was "murky." "From the beginning, this was a shady operation that grew ever darker as the resources increased in size.  But this isn't unique to the Albanisa enterprise.  It may be more pronounced there, but its right in line with the Ortega regime's policy to hide, manipulate and falsify all types of information, and with all the more reason, this one," explained the opposition legislator.
For his part, economist Adolfo Acevedo believes, "we're receiving the bill today for that lack of transparency, because the panorama is becoming more complex.  The government passes its information to the IMF.  The government never informs the citizenry, it only informs the IMF," he lamented.
Private consultant Rodrigo Obregón Robles, formerly general vice-manager of the Albanisa enterprise, feels that the opacity is part of a very precise plan.
"When there's cloudiness, its purpose is to hide what's really there in the plan.  This allows us to infer that a planning process existed, and that this included the continual maintenance of that cloudy atmosphere in order to cover up the true essence of the preconceived plan."
Based on the four years that he worked for Albanisa – beginning in 2008 when he was transferred there from his position as general manager of the Port Authority of Nicaragua – Obregón assured that "the brains behind the deeds noted that a large quantity of resources would be entering the country.  They determined that they should take advantage of these in order not to end up leaving power once again with few active resources, as many left [when the Sandinistas left office] on April 25, 1990.  With that experience in mind, they said: 'that won't happen to us again.  We need to work in a different way.'"
$550 million annually
In addition to criticizing the lack of transparency, many also question the inept management of a fortune that could have been used to bring true development to the country.  In the end, the money only served to enrich those who managed it, along with their children and front men.
When asked about this, Deputy Carlos Langrand of the PLI party demonstrated how these resources (averaging $550 million dollars a year between 2011 and 2014, according to the itemization Acevedo presented) not only were not used to better Nicaragua, but also served to move it backwards in terms of strong public institutions and the rule of law.
The legislator recalls that the news that Venezuela wanted to help Nicaragua "caused a great deal of expectation, especially because of the soft conditions with which it was offered (a 25-year repayment window with 2% interest).  It signified an important sum for any nation's development plan, for infrastructure, at a productive level, for a technological revolution, or for an educational revolution."
He points out that they could have constructed first-class highways to connect the mining triangle with Bilwi, or Nueva Guinea with Bluefields, or to construct a deepwater port in Monkey Point. "In addition, we could reforest all of Nicaragua instead of converting Alba Forestry into an ecological predator.  That portfolio of projects should have been seen as part of a national project, not for projects of the Ortega-Murillo family," he pronounced.
Instead, Ortega used that debt, "In a private manner, for his political favoritism, for undermining the State institutions and to disrupt Nicaraguan life for a people who had managed to touch what a democratic system could be, and convert this into an autocratic dictatorship," he concluded.
"Fraudulent management"
Sáenz feels that "these people threw a shindig with the resources, surely thinking that they'd never end; that the comandante was eternal, that the "Bolivarian revolution" was eternal, that this "generosity" was endless, and that as a result, it would never be paid."
Another possibility was "to try and transform Nicaragua into an agro-industrial force", for which a massive irrigation program could have been undertaken that would have let us take the leap this country needs.
"It reminds me of the large projects during the 80s, like the "July Victory" sugar mill: hundreds of millions of dollars, the latest technology, and now all you see are vacant lots and land disputes:  the "Chiltepe" project; or the "Sébaco Valley" project that ended up as white elephants.  In this case, it seems to me really irresponsible.  More than irresponsible, it was fraudulent management."
The legislator notes that if those 3.5 billion dollars could had been managed effectively and with business sense, the country could now have, "a good port in the Caribbean," if the Albanisa administrators had only decided to construct it. "Even if they handled it privately, Nicaragua would have been left with a Caribbean port," he asserted.
Another possibility was "to try and transform Nicaragua into an agro-industrial force", for which a massive irrigation program could have been undertaken that would have let us take the leap this country needs. "Or they could have created a bank that charged reasonable interest rates with reasonable repayment schedules. That could have been a viable program to become more productive and competitive by improving the capacities of the small and medium businesses in the country. "
Instead of having irrigation, credit and a Caribbean port, they proposed projects for raising silkworms, installing a hostel, developing a company for hiring security guards, landscaping….
"If someone in the government band had had any sense of responsibility, any sense of what this opportunity for resources signified, any sense of what these resources represented as a historic opportunity for this country … Ortega, if he reads this, should fire every one of the managers, because they handled this as if it were a grocery store, counting out pennies. It was the same to them whether they were talking about $200 million for a top-tier communications technology company, or about a hostel."
A "Carnival" of mini-projects
Obregón recalls that "people from gold prospectors on, would arrive with project proposals and beg Mr. [Francisco] López to intercede with the highest Albanisa authority (Daniel Ortega) to lend them the money.  He would demand that the proposals be turned in to him well formulated, as complete as possible, and would tell them that he'd let them know."
Beyond the possibility that López kept the proposals to execute them himself, the former vice-manager of Albanisa believes that the reason for collecting so many business plans was to "create centers of expenses.  For each one of those projects, accounts could have been assigned in areas like research and development.  Millions in expenses could then be justified in the future for formulation, research, implementation and creation of new enterprises."
He explains: "an investigator can charge a substantial amount of money, justifying it as expenses for mobilization and skill.  I can infer that the intention was to create expense centers to justify such spending.  I always believed that that was an enterprise designed to lose money.  It was an enterprise set up to consume capital.
Obregón doesn't find it strange that among the Alba papers they found the existence of a rent-a-car agency and a security business that for two years hasn't even been able to collect payment for its services to other Alba businesses – all under Francisco López.  For Obregón, such delay then leaves open the possibility of "inflating" those expenses at the moment it became necessary, such as for an audit, for example.
Another reason is that "they had to generate employment for a large clientele among the population.  Many who gave their vote to President Ortega in November 2006 showed up to beg for work.  So, there was an instruction to create jobs to assuage unemployment, and they took that opportunity to sign up even professionals as security guards" for the SSF agency.
In the long run, none of the large Alba projects employed the SSF security guards but used those from the "Goliath" agency.  The reason is "when the family came in demanding to take over their fiefdom, each one went in and created third-party businesses for everything, implementing a strategy of internal growth with internal resources in order not to have to pay for outside services," Obregón explained.
The big question now: who's going to pay?
Venezuela suffers for every day the price of oil remains well below $100 a barrel, and that increases their need for resources. Especially considering that their Nicaraguan "partner" hasn't been the best administrator, it becomes especially evident that the time of "thin cows" is arriving.
"Albanisa is a mixed enterprise, where the Nicaraguan state has 49% of the holdings.  This has become more complex because previously they told us that the debt corresponded to Caruna, a strictly private company.  Now the debt passes over to a Nicaraguan state enterprise.  Today more than ever – especially after it was bought by the Central Bank of Venezuela – it's imperative to clarify that debt." Acevedo remarked.
Deputy Enrique Sáenz feels the debt should be paid by "those who benefited from it."  "It remains to be seen whether the patrimony that they've accumulated is enough, because there's been great waste here.  There have also been many hands in the till along the way: a little piece for this one, a little piece for the other.  Is the accumulated patrimony enough to pay the debt?  Do the businesses they've created really have enough profitability to honor the debt repayment and the interests?  They should pay, but it's a sure bet that if Venezuela asks for it, even after turning over the entire patrimony they're going to be left owing.
Confronted with that question, Obregón admits, "it's difficult to arrive at any conclusions in the face of so many half-truths and complete lies. Since the time they began to talk about the construction of a refinery for processing 150,000 barrels of oil per day, it was very clear that you couldn't do this with any market studies in the region."
"The essence of that whole tangle is that there's a debt that Albanisa can't pay, that can't be passed in its totality to Pdvsa.  Pdvsa as the major partner with 51% is going to say: 'I assume 51% of all this, but let's put a period on it because it's unsustainable.'  Especially seeing the long term perspectives for fossil fuels on a world level, and the development and advance of the renewable energies."