Nicaraguan Doctors Demand Reintegration of 400 Dismissed Medical Staff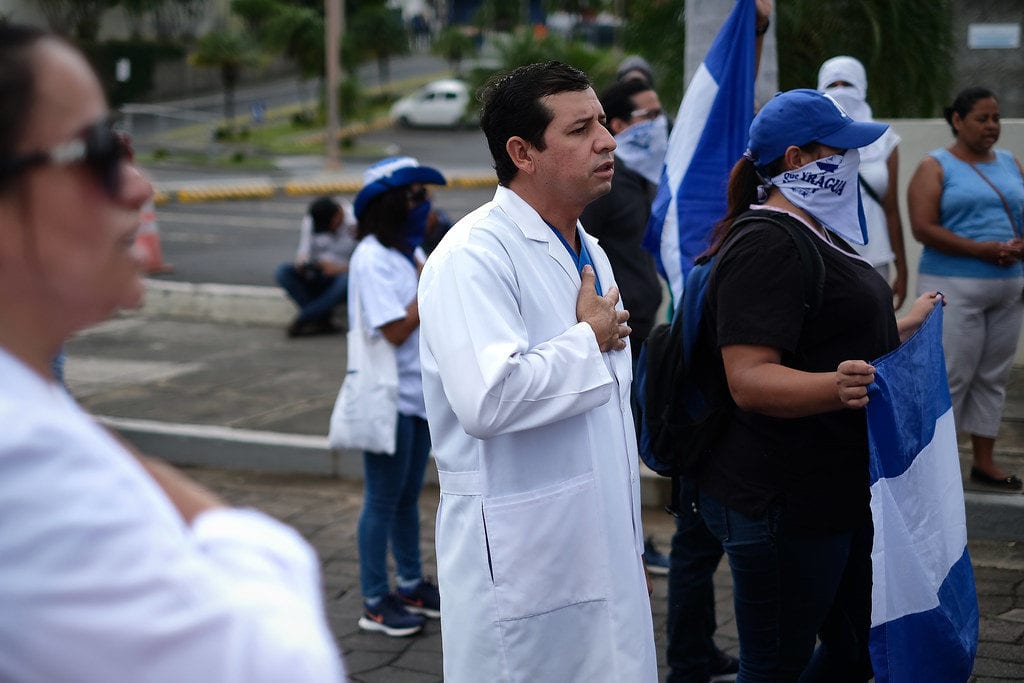 The massive police deployment failed to prevent a small group of doctors and health workers from gathering to protest
HAVANA TIMES – A group of Nicaraguan doctors held a protest Saturday in Managua against President Daniel Ortega, despite a strong police operation to prevent it. They demanded the reintegration of doctors fired for attending wounded protestors during armed attacks by the government's police and paramilitary forces in 2018, and for the ongoing harassment suffered by doctors who "complied with their Hippocratic oath", to attend to all people without political distinction.
The police deployment, which judging by the number of agents and equipment, exceeded any operation seen here against international organized crime. However, it failed to prevent a small group of doctors and health workers from entering the meeting point to carry out the protest.
During the protest, from the parking lot of the Pellas Business Center, doctors shouted the names of more than 20 people who, they said, died because the former Health Minister and now Ortega's personal advisor, Sonia Castro, ordered that they not be treated in the hospitals.
"They were Nicaraguans, they were not enemies!" Exclaimed the protesters, who also issued slogans such as "Enough of the repression!", "Dictatorship no, democracy yes!", and "No more torture!"
The doctors also had direct words against Ortega: "He's a criminal, he's not president!" They also called him "Murderer, rapist and drug dealer!"
With their slogans the doctors challenged the presence of police officers, which included dozens of heavily armed patrols, with war rifles, agents specialized in capturing dangerous criminals and riot police, as well as patrols in all-terrain vehicles, dogs, mobile jails and buses.
"The protest is civic, they have tried to intimidate us, but they have seen that doctors are not afraid," the association leader, Jose Luis Borge, told reporters.
During the demonstration, the police beat and injured a minor who was trying to carry out business in the offices near the protest, his relatives denounced.
Borge warned that the quality of medical care in Nicaragua has declined since the social outbreak against Ortega in April 2018, because the Ministry of Health has not found enough Sandinista ideology doctors to replace those it has dismissed.
According to the Nicaraguan Medical Unit, more than 75 doctors have had to go into exile for the siege of Ortega's police and paramilitaries. A total of 56 remain in Costa Rica and 19 are in the United States, while others have fled to Europe or remain hidden in rural areas of Nicaragua.
"It is unthinkable that Daniel Ortega, who is a criminal, has rights, and we, who are doctors, have no rights, what country we are in!", Complained surgeon Eddy Valverde.
The Inter-American Commission on Human Rights (IACHR) has held the Government of Ortega responsible for committing crimes "against humanity" in the context of the crisis. The crisis has left at least 325 dead, according to the IACHR.