Prison Scrubs and a Blue-and-White Nicaragua Wedding Cake
A released political prisoner gets married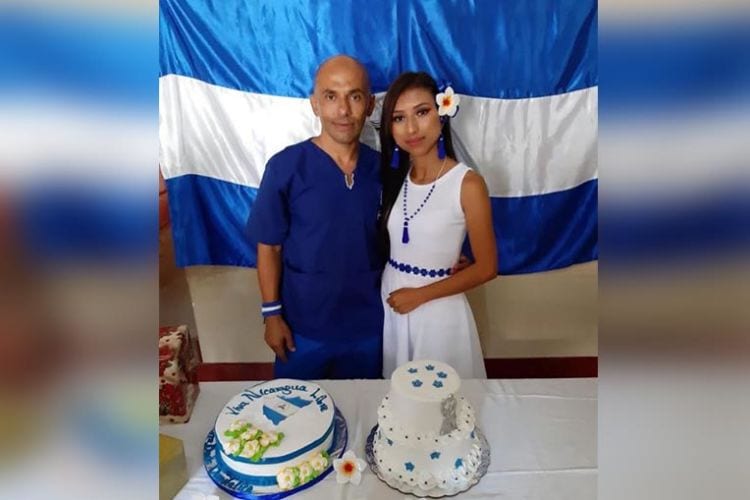 By Luis Eduardo Martinez M. (La Prensa)
HAVANA TIMES – Four months have passed since former political prisoner David de Jesus Lagos was released from jail. He decided it was time he married the woman who's been his partner for 10 years, Ana Gabriel Monge Amador.
It could have been just one more civil wedding, but instead the couple decided to call it "the vandal's wedding" and to have a ceremony that reflected the struggle for a free Nicaragua.
The wedding was held on Nicaragua's Flag Day, July 14th. David wore the blue scrubs he had worn during his time as a political prisoner of Daniel Ortega's regime. On the shirt, he had embroidered a white letter "L" for his last name, and under it the blue and white flag of his country.
Ana Gabriel wore a white dress with blue trim and other blue accessories she had made herself. Her hair was adorned with the national Sacuanjoche flower.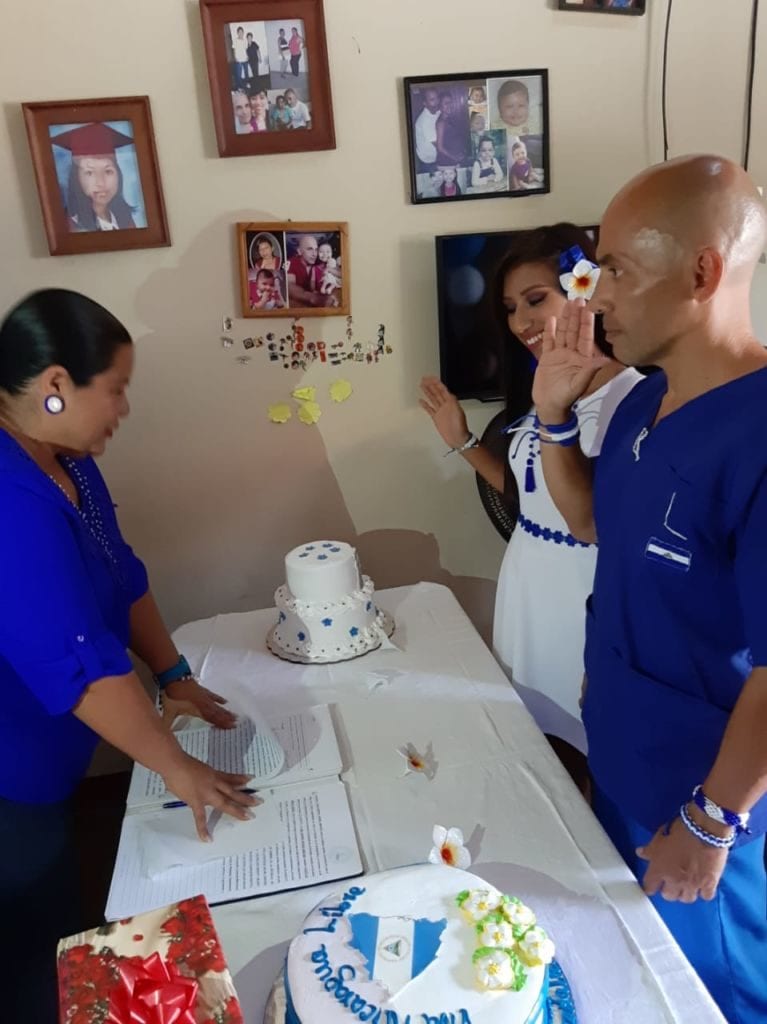 Along the same theme, the couple's wedding cakes were decorated in blue and white. One had the map of Nicaragua on it, with flowers at the bottom and the phrase: "Long live a free Nicaragua" written in blue across the top. Alongside one of the cakes, they had written a small sign: "Our vandal's wedding."
The celebration was held in the small living room of their house, decorated with a huge national flag, and blue and white balloons painted with different slogans. "Eddy Montes, presente" read a number of them, in memory of the political prisoner from their city who was killed by a guard in the men's La Modelo prison last May 16.
David Lagos explained that they had decided to hold "a 'vandal wedding', to tell these people in the government that we're going to carry on with the struggle for a free Nicaragua."
"I wear (the prison uniform) with pride in myself and my family, because I'm not a criminal," Lagos declared.
He proposed marriage while in the El Chipote jail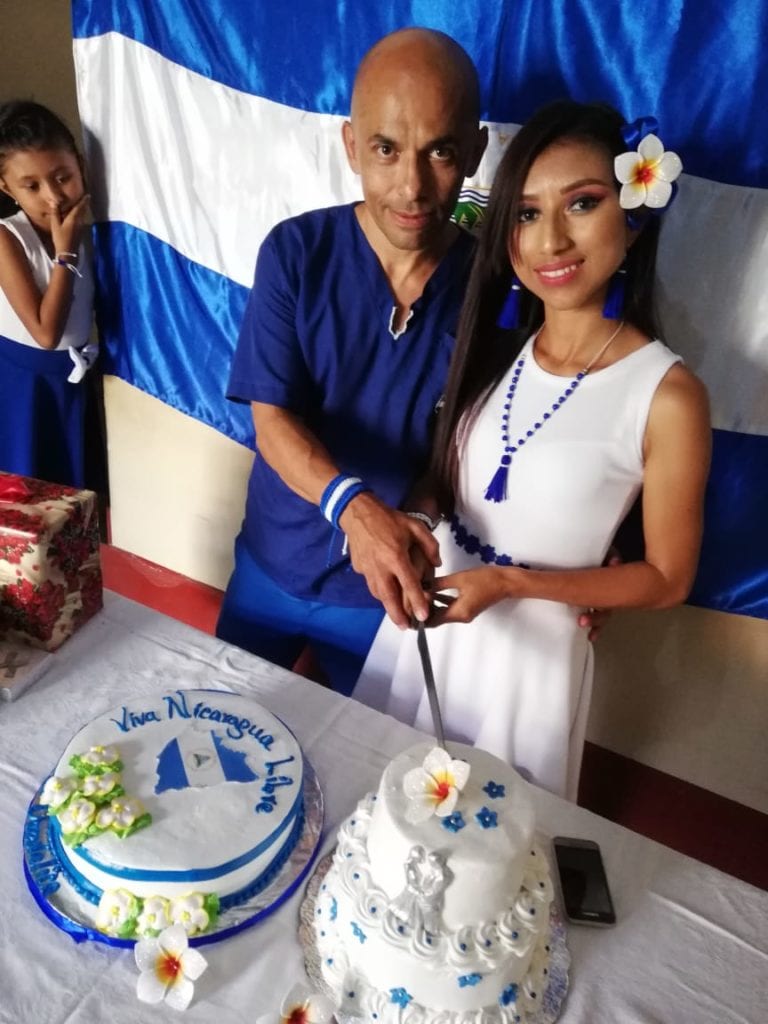 Ana Gabriel Montes and David Lagos are close to commemorating 10 years together. They have an eight-year-old daughter, Daphne.
When he was arrested on the night of October 13, 2018, and accused of illegal arms possession, as well as a second accusation of threats of armed violence in concurrence with the abduction of a lawyer, they had already began to talk about the possibility of marriage.
The now ex-prisoner was tried in Matagalpa, but David was first held prisoner in Managua's El Chipote jail, and later in the La Modelo prison.
"He was beaten up badly, and I felt so much pain for him," Ana Gabriel recalled. One day when she visited him in El Chipote, he promised her that they'd get married when he got out of jail. "I was filled with emotion, but he seemed so far away and unsure of himself. Both of us were crying with the contradictory mix of feelings," stated Ana.
Lagos noted: "I love her and my daughter. Being there in El Chipote, I realized that she was suffering a lot, that she was going through a crisis having to trek to those prisons to bring me food while she herself went hungry and thirsty. To tell her that we'd get married was the least I could do, especially since she became my companion in the struggle."
David was absolved of the two criminal charges against him under the Amnesty Law approved by the Ortega deputies in the National Assembly last June 8.
Ana Gabriel assured that "getting married was one of my dreams, thank God that now we were able to do it."