The Forced Displacement of Nicaraguans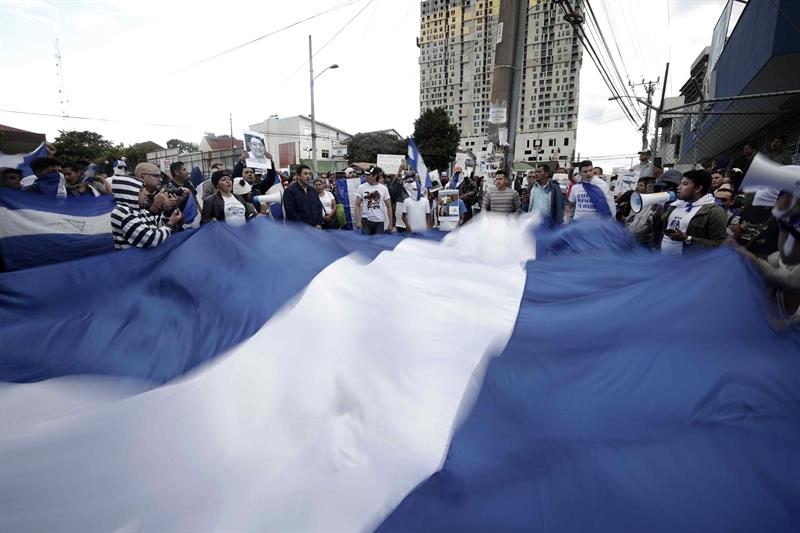 A human tragedy, another crime against humanity which demands international protection for refugees.
By Uriel Pineda  (Confidencial)
HAVANA TIMES – Since the socio-political crisis broke out in Nicaragua, at least 62,000 Nicaraguan have fled the country, according to information from the Office of the United Nations High Commissioner for Refugees (UNHCR) published in April.
This context can be analyzed from a double edge, on the one hand, the criminal liability for the forced displacement of people as part of the crimes against humanity committed by the regime led by Daniel Ortega; and on the other hand, to make known the rights of our compatriots forced to emigrate and request refuge.
The forced displacement of people, as a crime against humanity, supposes the existence of a policy or strategy that derives from a coercive act so that people rooted in the territory of their country, see themselves forced to leave, without the existence of a motive or legitimate reason according to international law.
The policy of persecuting opponents which results in imprisonment and makes them fear for their lives, compels many of them to emigrate, but they are not common migrants, they are displaced. Therefore, when we think of the crimes against humanity that the regime in Nicaragua has committed against the population, let us not only think about murders, forced disappearances, imprisonment and torture, we must add forced displacement to the list.
This forced displacement provides Nicaraguans a special protection under international law. They should be treated as refugees. Since July 2018, the UN has called on the international community to welcome Nicaraguans who have been forced to flee the crisis, which in turn obliges different countries to give priority treatment to Nicaraguan immigrants and consider them refugees.
In general terms, a refugee is a person who suffers persecution in a country, being forced to flee, and who also has a well-founded fear that upon their return their lives and physical integrity will be in danger. People in this situation enjoy international protection.
In order to demonstrate refugee status, a person must certify before the immigration authorities of the country where he/she is at, the persecution and the well-founded fear of returning. For this, he/she can avail himself/herself of newspaper articles, E-mails, publications on social networks, complaints filed with human rights organizations and, in general, any threat directed against the person or group to which it belongs. It is important that this documentation be presented physically and to have a digital version in case of loss.
There are some characteristics of refuge that exist and it is also useful to know. First is that it is not necessary to legally enter the country, since there is prohibition of penal and/or administrative punishment to refugees who have entered the country irregularly. The second thing to know is that it is governed by the principle of non-deportation. This implies that, even if the refuge is finally denied, the country is prohibited from returning the immigrant to the country where he/she suffers persecution.
Another element is the spirit of residence, which implies that, if the refugee returns to Nicaragua he/she loses this condition, and the same applies if they take refuge in the protection of another State. However, the most relevant thing is the incompatibility with migratory transit; that is, if the final destination is the United States and they are detained by Mexican immigration authorities, admitting that they are in transit is grounds for deportation, resulting more convenient in this case is to request refuge from the Mexican authorities and once the process is carried out or they are free to continue their journey, then continue it.
Similarly, it must be taken into account, without prejudice to the refugee status being requested of migration authorities, it is also useful to request the intervention of national human right protection institutions in order to provide transparency and legality to the application process of refugee status. This type of complaints can be filed by relatives, friends or acquaintances making use of internet in the Ombudsperson system of each country (human rights commission, Ombudsperson for human rights or Peoples' advocates), asking for support to grant refugee status to a relative, friend or acquaintance who has been detained by immigration authorities of the country where he/she is.
In the same sense, it is necessary to highlight that, if the resolution is favorable and the refugee status is granted, not only the person is allowed to stay legally in the country, but also a migratory status is granted that allows them to bring their family nucleus, as well as authorization to work legally in the country.
Finally, refugee requests made by Nicaraguans are reported to UNHCR, which in turn allows us to dimension and visualize the problem in general that the country lives, before international human rights bodies and the international community itself.
Ninety percent of the displaced Nicaraguans are in Costa Rica. To request refuge in this country one must apply to the Commission of Restricted Visas and Refuge through the General Directorate of Migration and Immigration. The process involves the submission of an application, attachment of general documentation and an interview. Once the aforementioned is fulfilled a refugee application card is issued. If three months have passed and there is still no final resolution to grant or deny the refuge, the refugee applicant is entitled to be issued a temporary working permit, which is important because of the current saturation of applicants.
What is happening in Nicaragua with forced displacement is not only a criminal act of the dictatorship led by Daniel Ortega, but also uncovers a human tragedy. Thousands of people fleeing practically only with what they wear, leaving their families and their lives as they knew it, all because of the fear of losing their lives or being imprisoned with all that this entails. To make the decision is not easy, neither is it to go to an unknown place without knowing anyone. But, knowing the scope of international protection for refugees, can be useful in the current context.